2014
09.29
I tried weekly blogging an anime once. It didn't end well.
I wrote three fairly decent editorials about Kill la Kill. I put a lot of effort into those pieces, and I'm still quite proud of them. But that's all I had in me; a few critical analyses about other critical analyses, as it were. Substantial arguments against other substantial arguments that fell on deaf ears because our readership was low. I wanted to engage in a discussion about how I perceived the issues others had with a series I liked, but of course, that didn't really happen. Which is fine, except for the part where almost everything else I wrote about the show was simply awful. As it stands, only one of my more traditional episodic blogs was anything resembling good, and the other two not-terrible ones don't hold up because everyone who isn't insane has realized that the point of them has been rendered moot over time.
But I still shouldn't have stopped weekly blogging KLK. Even if every post I wrote turned out to be garbage, I shouldn't have given up like that. I should have tried harder, learned how to analyze, and not worried about looking stupid. Because shit, man… I already looked stupid to the people who disagreed with my blogs that weren't crap. Everything else I wrote made me look boring, which is even worse. And the fact that I gave up — that made me look like a quitter, which is worst of all. The truth is, when you put your heart into something, you're going to end up looking stupid to those who think differently from you. And if you look stupid to someone, somewhere, you must be doing something right.
My weakness, if not outright failure, as a writer was and is on full display. I was immature; cowardly. I know that now. Which is why I have to take this one last chance to make it right.
Before we begin, yes, I know this OVA has been out for nearly a month now. I'm not going to pretend I was busy and didn't have any time to write about it. But I've been doing a lot of reflecting over the past week or so, and I've just now realized that I need to write about this if I want any chance of moving on from the ineptitude I displayed last year. Better late than never, I suppose. I guess you could say I lost my way, and now I've found it again.
In a move that can only be described as fitting, this episode's storyline plays out like a parody of those bad shounen anime spin-off films that extend the original premise far past its sell-by date while also adding very little to the overall canon. Much like one of those wonderful pieces of art, episode 25 brings back a minor villain nobody cared about and forces the protagonists to do battle with clones of themselves who were created by magic or some shit. (Actually, they're physical manifestations of the bad things they did in the past, and you know how that goes.) It's a dumb, fun homage to dumb, fun action manga; in other words, what Kill la Kill does best.
That said, while entertaining, the OVA feels entirely unnecessary and even a bit rote, which doesn't exactly make for the greatest viewing experience… though there is a point to it. On the surface, this is one of the weaker episodes of the series; it's enjoyable, certainly, but it doesn't pack the frenetic punch of KLK's best installments, and the trademark humor and unique artwork are noticeably weaker than usual. It's nice seeing all of our favorite characters again, but they honestly aren't given much to do here. What saves this episode from being a disappointment, and elevates it thematically if not artistically, is that it marks the first time since the earliest installments that I've felt like this show has tried to say something meaningful.
The main theme of this episode is moving on — that we can't keep going through the motions and doing the same things forever. Someday we all have to grow up, and that includes archetypical characters in an action-comedy anime. Back in March, a lot of people wanted to see Kill la Kill continue on for 24 episodes more, and some folks even wanted it to keep running indefinitely. Certainly, as its self-proclaimed "biggest fan" during the first cour, I once felt the same way. But that's a silly and immature way to look at things. Just as life cannot continue on forever, neither can an anime (unless it's Sazae-san, but I digress). Saying that Trigger should make another season of KLK is like insisting that Spike isn't dead and still hoping for more episodes of Cowboy Bebop 16 years down the line. The story is over, and forcing more episodes onto the back end would only serve to retroactively degrade the quality of something those most hopeful must doubtlessly hold dear.
And that, above all, is the point of this OVA. It's not a particularly enthralling watch, but when you actually sit down and think about it, it provides plenty of food for thought. Why do we cling specifically to these characters and this universe, to the idea that nothing else can ever match the enjoyment we had with this specific work? I'm not just talking about Kill la Kill here, but any fictional work that's earned itself loving followers. It's not like the writers, directors, animators, or composers of our favorite anime are going anywhere. They will continue to make things for our enjoyment — new things, original things. The characters and stories are not real, but the people behind them are. If you've developed a connection with their art, follow them as they to continue to create; don't wallow in the past hoping for them to return to something they've retired. Chances are, if you ever find out what – exactly – happens after The End of Evangelion, you aren't going to like NGE as much as you did before. Because nothing happens after The End of Evangelion, and if something eventually does, it'll just be Gainax going back and half-assing some new content to make money off of an old idea.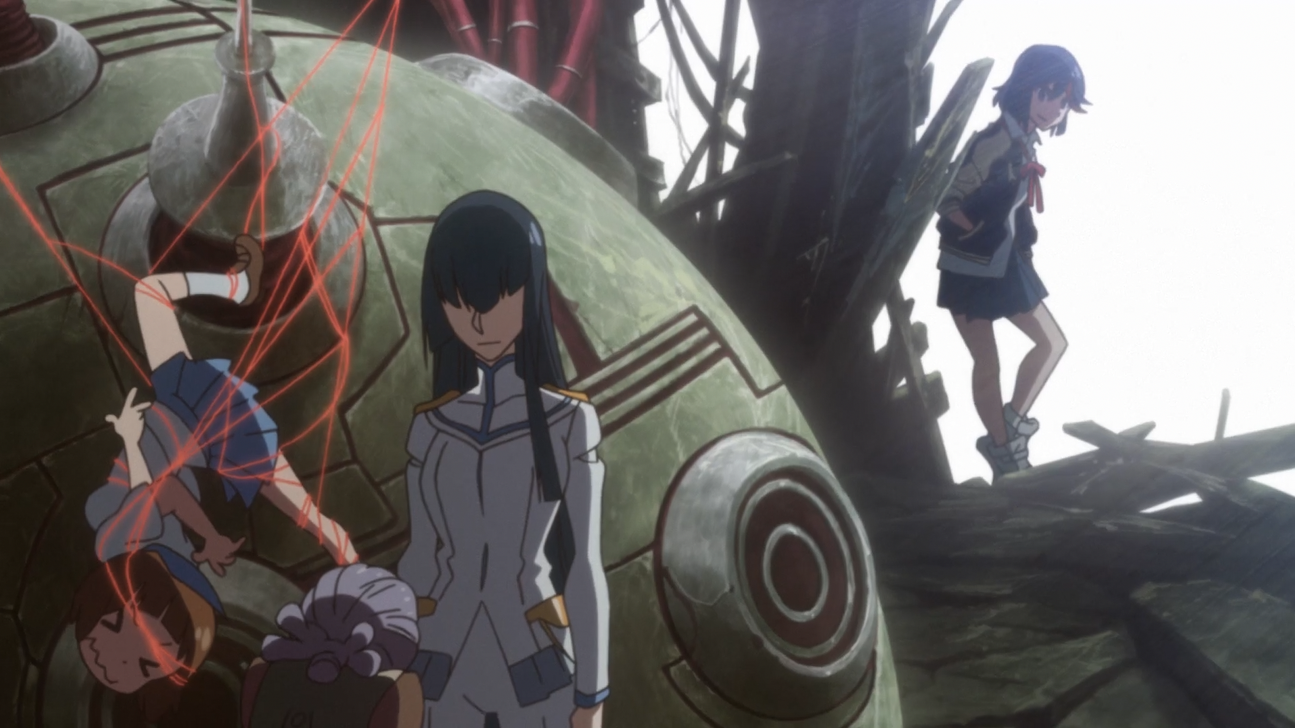 Kill la Kill is over. It was over long before this episode came out. I loved it (more so back when it was an episodic comedy with silly action, but that's neither here nor there), and I miss it, but there isn't any more, and I don't want there to be any more. This OVA goes out of its way to prove that there isn't any room for more episodes, which makes it simultaneously infuriating and brilliant. Much like any other piece of fiction that appeals almost directly to my tastes and sensibilities, I think it's perfect as it is, and I don't want to see extraneous add-ons stain my memories of it. Which isn't to say that KLK has no flaws – it has tons of them, actually, especially in the second half. But when something speaks to you like this anime so often did to me, you can really only see it as an entity of flawed perfection. It's hard to be objective when you're emotionally invested. This final installment recognizes that fact, while simultaneously reassuring the viewer that it's okay; but you have to move on. In all things, especially real life.
Just like how you can't forever hold on to the things you love without a little sacrifice, you can't hate yourself for mistakes you've made in the past; those mistakes are what influence you to grow as a person. When something's been bothering you for a long time, you have to confront it head on to prove that you're a better person today than you were yesterday. And while it might not be presented particularly well, that's exactly what the characters in the Kill la Kill OVA learn as they fight their evil doppelgangers.
I think I can move on now.