2012
10.31
Greetings everyone! I am Count Foggula, Foggle's 70% eviler and 100% more sparkly great uncle. It is on the day of this year's glorious All Hallow's Eve celebration that I have been asked to bring you some holiday-themed editorials, straight from the bowels of Hell itself. Penned by the eternally damned souls of several Animation Revelation forum members, this feature covers three pieces of horror animation in shocking 2D! What could possibly be more terrifying?
Please enjoy reading their thoughts on an undisputed classic, a cult classic, and… whatever that second one is.
It's The Great Pumpkin, Charlie Brown!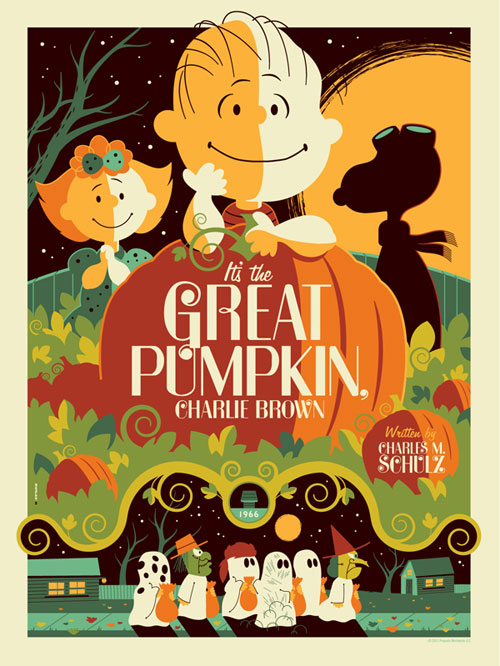 You can't get your Halloween right without some Charlie Brown, or so says popular culture. Poorly animated, badly acted, and should not be able to stand the test of time, yet Great Pumpkin somehow manages. How? Well to start, this isn't a Charlie Brown special. The kid's in the sidelines getting free rocks. This is a Lucy & Linus Van Pelt special, detailing the contrasts between their ideologies in a pseudo-contest to see who stands. Lucy goes with cold desire for corporate treats that will do nothing but clog her stomach, while Linus goes for the spiritual side of Halloween through the belief in the titular Great Pumpkin. Neither one's the A plot or the B plot, but more intertwined into Schulz's message. A bad writer would've focused on one or colored the other with a rose tint, but Schulz is not one to pick sides. He illustrates both with scorn and affection.
Though the story's on equal terms with the two, Linus definitely gets the spotlight here. After all, he's the reason for the title. From seeing a pumpkin get hollowed like an autopsy, to yelling his creed right at Charlie Brown, Linus gets so much characterization here. Sure, you can say that his whimsy contrasts with his rationality and intellect in the Christmas special, but this adds another layer. Even with all that wisdom, he's still the kid of the group. As such, Linus will always be looked down by the rest of the kids as the load. Combined with having a haughty sister, no wonder will he look to a higher source for guidance when life goes against him. Of course, as the special shows, belief is the virtue of the young.
By all means, the message that spirituality gets overshadowed by commercialism is prevalent in Peanuts. But this is where the aesop becomes bleak. Instead of having the spirit affirmed with the gang all together, Linus stands alone in his idea. And outside the universe, the context becomes darker in how Linus will be forever doomed to defend his belief in the Great Pumpkin only to have his hopes dashed each and every Halloween. Entire generations of trick-or-treaters weren't conceived when the problem of Linus started. I don't know if the producers even knew if the special would be repeated to this day, but whether it be intentional or not, Great Pumpkin showcases the withstanding of faith in the face of materialism. No matter how many times disbelief gets thrown, there will be one lonely light to carry on and make Halloween something other than an excuse to get fat on chocolate. Even if promises prove fruitless, you got to hold out hope and fulfill traditions not for others, but for yourself. And that's what people all over the country do when turning on ABC every late October, watching a little kid with a blanket waiting in the night for a pumpkin that will never appear.
— Dr. Insomniac
Midori: Shoujo Tsubaki
Perhaps you've heard of Midori. Adapted from a manga by ero guro (don't ask) artist Maruo Suehiro, this 1992 anime was written, directed, drawn, animated, and produced all by one man: Harada Hiroshi. Unable to receive funding for his movie due to the fact that nobody wanted to touch the subject matter with a ten foot pole, he spent his entire life savings and five years seeing his vision through to completion. Banned and seized by Japanese authorities upon release, about three minutes of footage were lost forever, and the original print has since been destroyed. Currently it is only available in France on a 2006 DVD released by Ciné Malta; how they were able to obtain a copy of the surviving video is anyone's guess.
Shrouded in mystery by its interesting production process and turbulent history, Midori has become somewhat infamous among a rather niche group of anime fans due to its content, and understandably so. It's a hard film to watch and an even harder one to critique. Is there a method to the madness? Does the grotesque dog stomping scene contain some sort of deeper meaning? Does the coiling snake that is the transsexual's penis mask any kind of brilliant subtext? Or did Maruo and Harada intend only to shock audiences with scenes featuring creatively depraved imagery?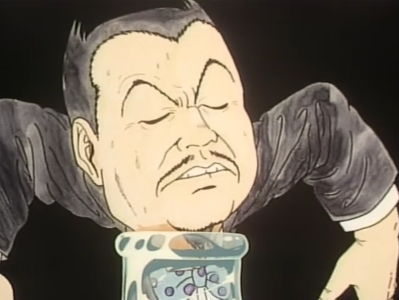 Young Midori's story is a depressing one, to say the least. Her mother dead and father gone, she visits the friendly-seeming manager of a traveling freak show in hopes that he will help her through this rough patch in her life… and then she gets raped. A lot. Early and often. While never explicitly shown to the audience, what the other carneys do to her is obvious, prominent, and very uncomfortable. She is also beaten by the manager for reasons unexplained, other than perhaps that he is a sadist. And she encounters more than just physical and sexual assault; early on, Midori is seen feeding some cute puppies — immediately afterward, one of her antagonizers proceeds to kill them in a particularly graphic scene. Her life becomes a living hell with no escape and no solace.
At times, Shoujo Tsubaki tries to make you feel sorry not only for the title character, but for the "freaks" as well, particularly in the latter half. While it doesn't really succeed in doing so, the twisted thing is that their motivation does make sense, though of course absolutely nothing can justify their actions. Society looks down on the man who can only move like a caterpillar, society ridicules the girl with a penis, society made the man with no arms and a messed up face feel like he didn't deserve to live — so they lash out at Midori because they know they can get away with it. They attack her because she's "normal", and they feel as if they need no other reason. This isn't groundbreaking territory by any means, but it gives context to the film's disturbing nature outside of "let's see just how sick we can make this scene!".
Truth be told, outside of the bit with the puppies and one other scene later on, very little of the more gruesome stuff is shown on-screen. You know it's happening, and you might witness the build up or the aftermath, but you don't see it. This is a very intelligent stylistic choice, as not only does it actually serve to make certain events more horrifying, it lends further credence to the idea that this was intended as a piece of art rather than as a "shock" film. Of course, there's a lot of weird and sickening imagery spread throughout, mostly near the beginning, but it's more depressing (and perhaps even allegorical) than it is exploitative.
Eventually, a dwarf magician specializing in western magic joins the freak show. He begins to steal the limelight from the older mainstays, and is actually nice to Midori to boot! The manager finally gets back in the black with his help, and due to his protection, the protagonist begins to feel as if life might not be so bad after all. They fall in love, and suddenly the film's tone noticeably lightens up. The disturbing imagery and themes all but cease, though quickly the magician is shown to be very possessive of the poor girl. The theme here is that it's still quite possible to hurt even those you love the most, and even without violence. Midori eventually returns to feeling distraught, this time from being trapped emotionally by someone she holds dear.
What's interesting is that the magician eventually realizes how he's hurting Midori, but not until after he, in a fit of anger, uses his magic to deform and murder an entire crowd of people attending his performance. This scene is extremely bizarre — like something out of an ultra-violent Dumbo — and appears to lack a purpose at first… but upon further examination, it can actually be taken as the major turning point of the film. Publicly speaking out against those who would deem him and the other carneys as humanity's dregs, the magician develops more respect for himself and his peers, including Midori. When he decides to leave the freak show with her, the atmosphere is calm and peaceful for the first time. The manager (who runs out on them after the incident) aside, all of the characters finally view each other as equals and begin to actively try making things better for themselves instead of wallowing forever in anger and self-pity.
This would be an uncharacteristically happy and hopeful ending for such a disturbing and depressing piece… if it were actually the ending. Indeed, life is cruel, and thus dictates that the magician must be killed by a random criminal as soon as he and Midori reach the city together. The film then ends with a cryptic scene in which the protagonist presumably goes insane from all the built up pain she's held inside of her for so long.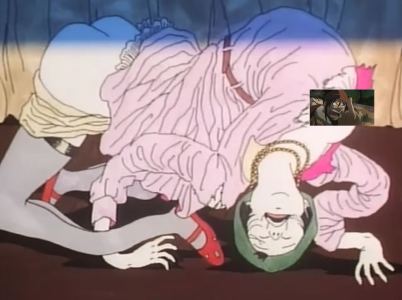 This is clearly a very personal piece for Harada. You don't just give up five years and all of your money for a movie you know will get banned on a whim, after all. Perhaps, upon reading Maruo's original work, he found himself connecting with the title character on some sort of personal level… in that regard, no one but he will probably ever know the reason why this move exists. He truly poured his heart into its production; the visuals and their movements are far from fantastic, but it's clear that a lot of love and dedication went into crafting the over 5000 sheets of hand drawn animation that comprise this anime. This is something he created specifically for himself, and while I am uncertain as to why, I do hope that he found it at least somewhat therapeutic for the pain he was no doubt experiencing when he made it.
Midori: Shoujo Tsubaki is a film I've wanted to tackle for a long time, and I'm both disappointed and relieved to find that it didn't live up to the legends describing it as "the most disturbing anime ever". As it stands, this movie is little more than a testament to one man's dedication and inner suffering, but I'm glad for Harada — not only that he was able to complete his work, but that it still exists to this day. Hopefully his story will have a more uplifting conclusion than Midori's.
— Foggle
Vampire Hunter D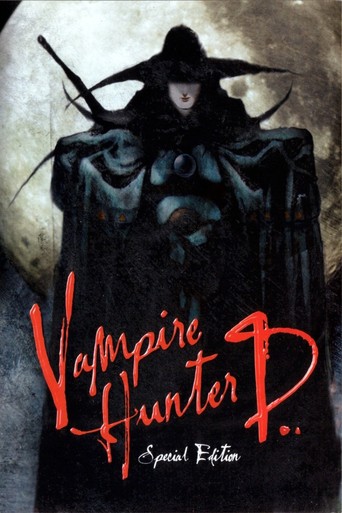 Vampire Hunter D. Chances are that if you're an anime fan, then you've heard this title several times before in your life, or have even watched it. Hell, you've probably at least heard this title even if you aren't an anime fan. For you see, Vampire Hunter D  was one of the first anime movies to be released outside of Japan, along with other films such as Akira, Ninja Scroll, and Ghost in the Shell. Like the aforementioned movies, it's also credited for introducing older audiences to the medium, a "Gateway Anime" if you will. Sure there were other anime like Speed Racer, Voltron, and Robotech that had aired on TV previously, but they were for the most part heavily edited and altered for U.S broadcast, and with the exception of the last one, weren't really any different from most other kids shows airing at the time. What anime like Vampire Hunter D did was show audiences what the medium can be like at its best without heavy editing and alteration, and yes, that anime isn't "just for kids". Now with all this recognition it's gotten, you may be asking yourself "is the movie itself really that good?", to which I'll say: "Let's find out!"
Based on a series of novels by Hideyuki Kikuchi, Vampire Hunter D tells the story of a wandering Vampire Hunter, named "D" (shocker I know),  a human/vampire hybrid otherwise known as a "Dhampir" , or "Dunpeal" as they're called in this movie, (which I find to be quite a ridiculous term, not like Dhampir was any better) with a parasitic left hand and a mechanical horse for transportation, in the year 12090 A.D, a post-apocalyptic world filled with  Mutants, Demons, and Vampires. (now that's my kind of Apocalypse!) This particular venture has D being hired by 17-year old Doris Lang to protect her from the Vampire Count Magnus Lee, who intends to make her his bride. Also involved is Dan, Doris' younger brother, Dr. Fehring, who provides support for the siblings, and Greco Roman, the Mayor's annoying son who wants to get into Doris' pants and generally just causes more trouble for our heroes. Also causing trouble for D is the Counts daughter, Lamika, and Rei Ginsei, the Counts Mutant servant.
I won't spoil anything, but the plot is pretty straightforward, and the characters rather generic. With the possible exception of Lamika, they never really grow beyond their respective archetypes. This movie quite clearly puts style over substance, and it pulls off that style wonderfully, and whatever substance is there is serviceable enough. There are quite a few deviations from the book though, and while I'll be noting some of them here, if you want a full list, you're going to have to look them up yourself.
D himself is your standard Drifter archetype; stoic, mysterious, speaks very little, and pulls off acts of heroism whenever he can. His personality is contrasted with his morbid, symbiotic left hand, who constantly taunts him about his half-breed nature, while still being useful in certain situations. All of this combined with his striking Zorro-esque design, and an effective (albeit, somewhat predictable) plot twist near the end of the movie make D a pretty effective lead.  Meanwhile Big Bad Magnus Lee has that charismatic air about him most Dracula-based vampiric villains have, and his seemingly genuine care about his daughter prevents him from being too one-dimensional, as the movies villain, he manages to be pretty entertaining. Female lead Doris Lang starts off as a capable warrior, but predictably turns into Damsel-in-distress as the movie goes on, while this fact is irritating, it's not enough to sour the movie as a whole. Dan, Fehring, and Greco aren't particularly noteworthy, while Lamika and Rei compliment Count Magnus rather well. Interestingly enough, I've read that the movie changes Rei's characterization drastically, changing him from an attempted rapist, to a more noble villain, the English dub makes him more immature and bloodthirsty.
Art & Animation-wise, while there isn't anything quite on the level of Akira's animation, it still manages to hold its own.  The film really succeeds in creating a haunting, dark atmosphere that sets the mood and tone of the film and really draws you in. The music didn't sound like anything noteworthy, but once again, it succeeds in setting the appropriate mood for scenes in the movie, so it definitely does its job. The character designs all look good as well, from D's flowing blue/black-ish cape, to the grotesque monsters that pop up throughout. Another interesting change from book to movie is that Doris and Lamika's hair colour's were reversed in the movie (black to blond, and vice versa), Doris also wore more modern-ish clothing in the novel, in contrast to her fantasy-like attire in the film. I do have an issue with the movie though; I'm not sure if it was because of the fact that it was on YouTube or what, but I had a hard time making out what was going on at certain points in the movie, it got so bad that I had to switch to a video of the 2003 film transfer to properly see what the hell was going on. Once again, not sure if it was the fault of the video upload, or the video source that it came from, but I feel like it's a problem that should be noted.
As far as action goes, VHD is relatively tame. While there are a decent amount of fight scenes, they aren't that over-the-top and violent as one would expect from a movie like this, while there is gore, and plenty of blood, the film never really indulges in it. So if you were expecting an action filled gore-fest, then you're going to be disappointed.
Now on to the voice-acting, as of this review, I've only seen the English dub of the film, so this section of the review will be focusing on that version. Being an early 90's Streamline dub, the voice acting is decent enough, while there a few lines of dialogue with deadpan and unintentionally hilarious delivery, the actors still manage to do a fine job for the most part, thanks to some strong talent. We have Michael McConnohie (Azulongmon in Digimon Tamers, the Narrator from Bobobo-bobobo) is the leading man as the voice of D,  who does a  decent job as the eponymous character, Kirk Thornton (Gabumon and his evolutions from Digimon, Jubei from Blazblue, and the current voice of Shadow the Hedgehog) turns in a good performance as D's left hand, Barbara Goodson (Rita Repulsa from Power Rangers) as Doris Lang, who's joined by fellow future Power Rangers voice actor Kerrigan Mahan (Goldar and the Magna Defender) as Rei Ginsei, but the best performance for me personally goes to the late Jeff Winkles as Count Magnus Lee, who's enjoyable performance is a big reason why the Count is so entertaining as a villain. Other notable voice talent includes Edie Mirman (Gatomon from Digimon) as Lamika, and Steve Kramer (Bleach's Shunsui Kyoraku, and Naruto's Third Hokage) as Dr. Fehring. On the Japanese side of the pond, we have the late Kaneto Shiozawa (the original voice of Rei in Fist of the North Star, and Gray Fox in Metal Gear Solid) as D, Ichiro Nagai (Dragonball's Karin) as D's left hand, Michie Tomizawa (Sailor Mars from Sailor Moon) as Doris, and Motomu Kiyokawa (Walter from Hellsing, and Valkenhayn from Blazblue) as Dr. Fehring.
Overall, despite its flaws, VHD is an enjoyable ride from start to finish, with hardly a dull moment to be found. Whether you're an anime fan, a vampire fan, or a fan of the supernatural in general, this movie is definitely a must see.
— Rynnec