2013
01.28
Late again, I know. We bring shame to our families. We'll be more timely next time, I promise. Love you guys~ <3
Bakumatsu Gijinden Roman
Do you remember what happened last time Monkey Punch made an anime that wasn't Lupin-related? Allow me to refresh your memory. While less laughably incompetent, Bakumatsu Gijinden Roman is just as bad… which in essence probably makes it worse.
Bakumatsu is about as close as a show can get to Lupin III without actually being Lupin III. The male protagonist looks exactly like Lupin, the female protagonist looks exactly like a younger version of Fujiko, this one guy looks exactly like Zenigata, some other guy looks exactly like Goemon, and he has a brother who also looks exactly like Goemon. And if you thought the character design had no effort put into it, just wait until you find out that these people also act exactly like their counterparts from Lupin III, more or less. Too bad the jokes are unfunny and the animation is mediocre.
The story is that Not-Lupin and Not-Fujiko steal money and valuables from the government, which they then give back to the people. These capers are usually pulled off in zany ways. There's also some weird sentai shit involved for whatever reason. In short, this is a less charming and less stylish version of Lupin that takes place in the Edo period because clearly that makes it new and exciting. 3/10 – Foggle
Boku wa Tomodachi ga Sukunai NEXT
This is a show about people who want to make friends and don't realize that the reason why they don't have friends is because they're complete assholes. This is a show that tries to be funny but is written by someone who has no idea what the word "humor" means. This is a show that uses a girl getting spanked by her dad as a fanservice shot.
There is literally nothing good about Haganai. Okay, the animation is decent, but that's about it. The music is lame, the voice acting is obnoxious, and the writing is putrid. The characters have no redeeming qualities to speak of; it's not hard to see why they don't have any friends. The "gang" is composed of multiple sociopaths and other assorted douchebags, all of whom could rightfully find a spot on a "worst cartoon characters of all time" list.
I guess it's supposed to be ironic since these people who are basically friends already are trying so desperately to make friends because they think they don't have any, but it's not funny… it's just stupid. Fuck this show and everything about it. 1/10 – Foggle
Chihayafuru, Season 2
Chihayafuru is one of those shows that I know isn't necessarily bad but I also don't find enjoyable in the least. The art and animation are fine, the voice acting is fine, the music is fine, the writing is fine – but none of it excites me at all. It's just kind of… there. It's a thing that exists; nothing more, nothing less.
That said, there's effort put into it. The characters, while not particularly interesting, all have their charms and will no doubt grow on viewers within the span of a few episodes. Perhaps the (fairly basic) storyline is more interesting if you care or at least know about Karuta – the card game beloved by Chihaya and her friends. The most exciting moments involved Sumire Hanano, a character I absolutely hated and was delighted to see unhappy.
There is substance here, but you have to actually care about the show and stick with it for the long haul to get anything from it. Whether or not you'll like this series mostly depends on what interests you; I didn't find Chihayafuru entertaining, but I'm sure others will. It might be worth a glance if you're looking for a new show. 6/10 – Foggle
Cuticle Detective Inaba
I don't think I'll ever get most Japanese comedy. I'll always enjoy the odder works like Cromartie, Oh! Mikey and Happiness of the Katakuris, but they're the exceptions to the rule. Even aside from the pun jokes, humor mostly comes from pure absurdity not according to the anarchy of Monty Python but the formulaic kookiness of an average Disney Channel Sitcom. And as always, this show didn't do a single thing to dispel that idea. Almost every joke is basically "Here's a goat! Isn't this weird?!~" While humor is subjective, there always lies into how well-constructed humor is. You can't just fling a dress on a scarecrow and call that comedy. Good humor actually utilizes such an absurdity and sees how the demonstration would betray the audience's expectations or make them so confused that the act goes straight into hilarity. Instead, everything's just so mundanely silly.
Which says nothing about the actual plot, for those expecting actual detectives and getting hijinks from the average Studio DEEN drivel. Whatever approach the show goes for becomes drowned by the nonsense of the usual Garfield comic. The writers probably just scribbled nothing but bullshit on twenty pages of paper and called that the script, except that would probably be too much credit for them. But of course, bastards will probably think this is a better detective show than Sherlock, or Poirot, or even Prime Suspect. And to that, I say, "Fuck you."
Rating: 1/10 – Bloody Marquis
Love Live! School Idol Project
A scream of agony ends the silence. I retch into a trash can, attempting to purge the bile I feel rising in my throat. I grind my teeth, desperate for the pain to end. Watching Love Live! is an exercise in torture, and it almost broke me. Almost, but not quite. I still breathe. My heart keeps on beating. I kiss the floor, happy that I did not spontaneously combust before the end of the episode. Surely I'm one of the lucky few.
Honoka, a generic loli, is extremely depressed by the fact that her beloved high school is shutting down. So what can she do to save it? Why, start a school idol club of course! With the help of diabetes-inducing musical numbers, godawful 3D animation, and the invisible (wo)man, she plans to rekindle interest in the school with singing, dancing, and strange outfits. Unfortunately, the student council president doesn't really go for her plan, so the next few episodes are sure to be an uphill battle filled with moe antics and bad singing.
I didn't see a single Y chromosome anywhere in this episode. That's a good thing, because I don't want there to be any possibility at all that I could have been born in Love Live!'s universe. 1/10 – Foggle
Mangirl!
Where are the man-girls? I was told there would be man-girls. Instead, it's just a shitty three minute comedy about lolis making manga. Go figure. 2/10 – Foggle
Maoyuu Maou Yuusha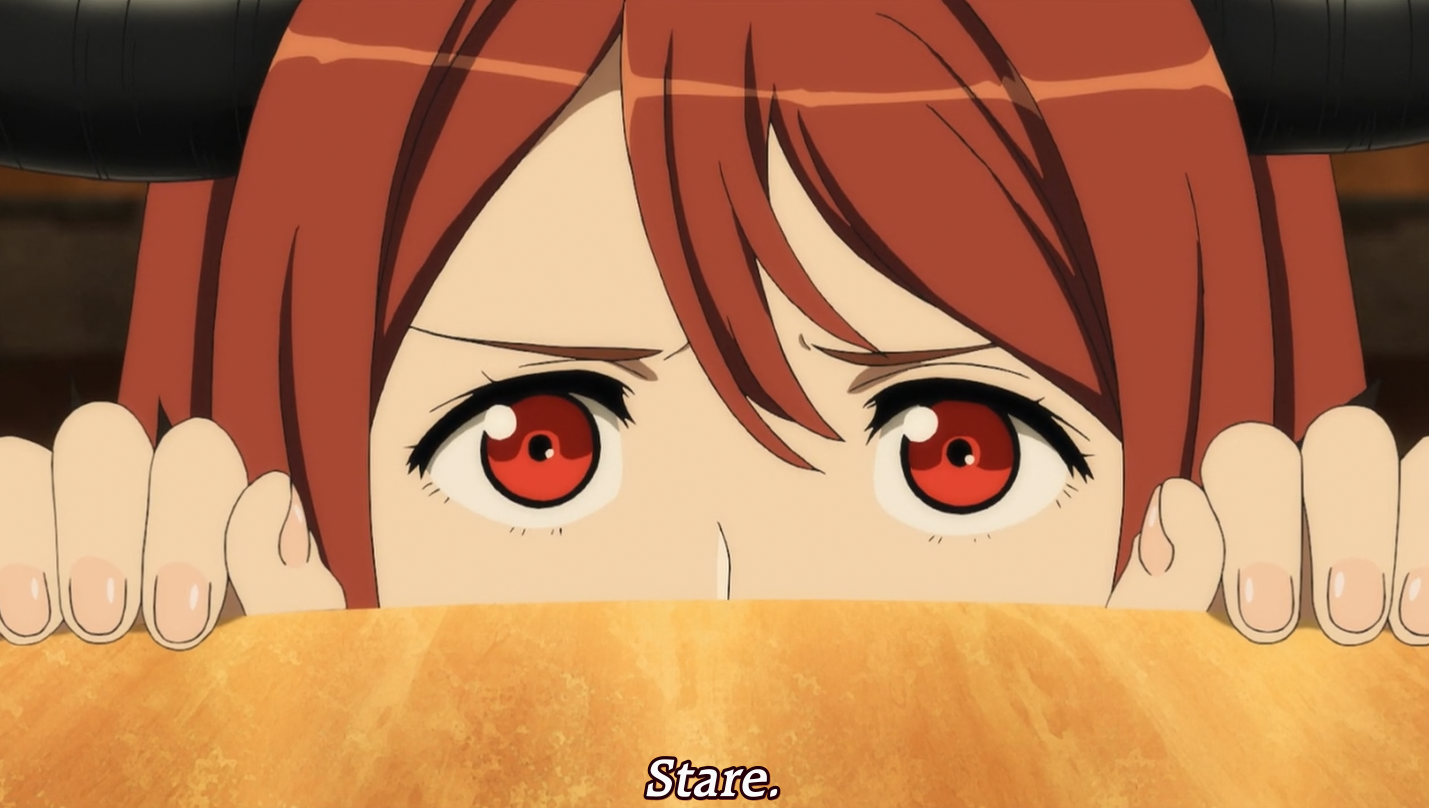 So, what if demons weren't really bad guys? What if they were just like you? Would you want to kill them then, huh? WOULD YOU, MOTHERFUCKER? Thus is a less eloquent phrasing of the question the Demon King asks of the Hero in Maoyuu Maou Yuusha. The aforementioned King explains this situation to the aforementioned Hero, and while the majority of this episode is technically exposition, it's handled extremely well and is actually very interesting throughout. While the tale of corruption isn't exactly original, it is intriguing, and something I'd like to learn more about in future episodes.
Oh yeah, the King and Hero are also in love. Imagine that.
The OP is terrible. My ears were already bleeding from the horrible singing by the time I got to the actual meat of the episode. That aside, the music is very nice and atmospheric, a highlight of this show's production along with the lovely background art. While the character designs leave much to be desired, the painted backgrounds are very pleasing to look at even on their own.
This was certainly an interesting first episode. It definitely had its problems (occasional cringe-worthy dialogue chief among them), yet I couldn't help but enjoy what was great about it. Maoyu is almost certainly the only show this season I'd even consider keeping up with. 7.5/10 – Foggle
Mondaiji-tachi ga Isekai kara Kuru Sou Desu yo?
Three unlikable characters are transported to a fantasy world where they play games with gods and demons because… because. They meet a Playboy Bunny (like, an actual bunny) named Black Rabbit, who refers to herself in the third person a lot. Then the male protagonist punches out a giant water dragon.
This show doesn't have much substance. Hell, it doesn't even seem to have a plot or purpose yet. Outside of a couple flimsy cliffhangers, viewers are given no reason to tune in for the second episode because the first installment looks generic and contains nothing of merit writing-wise. The world of Little Garden is kind of cool, I suppose, what with its mixed communities of different races (humans, gods, assorted demons), but I have no interest in seeing what happens next.
In fact, I'd completely lost interest in this episode long before the halfway point. Mondaiji-tachi is so damn unremarkable that it couldn't even keep me interested through the eyecatch. 3/10 – Foggle
Sasami-san@Ganbaranai
Shaft's got money, so Shaft has good animation. Too bad Shaft can't hire a good writer, because Shaft is still shitting out the same Shaft nonsense. Shaft is as Shaft does.
…I don't know what I watched. Something happened for 24 minutes that involved chocolate, underage girls, and a grown man doing the Hare Hare Yukai dance, but nothing I can elaborate on. If anything, I can say I wasn't bored, something that most other anime keep on doing for me. However, Shinbo just seems to be repeating himself instead of trying new things. The last scene of the episode felt just like the Walpurgisnacht fights from Madoka. Fumes of Arakawa Under The Bridge and Bakemonogatari reek the first part of the show. Instead of trying to invent something new, Shinbo seems to have relished in the success of his previous shows with absolutely no one to tell him that an idea might be too stupid to animate.
Rating: 3/10 – Bloody Marquis
Senyuu.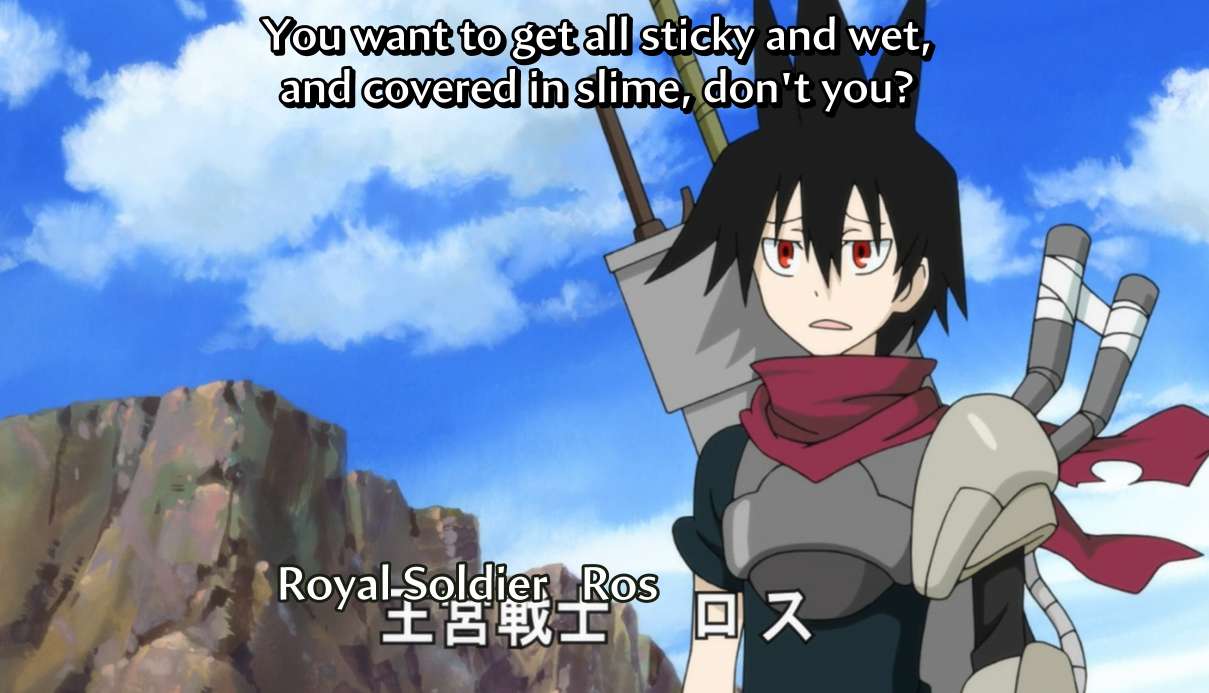 "Slime-tan is mai waifu!" – An actual quote from this show. There isn't much to say about Senyuu. because the episodes are less than four minutes long, but it's kind of funny in a stupid way I guess. And the animals are cute. It's not particularly good, but those two things alone make it better than most of the shit I've watched this season. 5/10 – Foggle
Tamako Market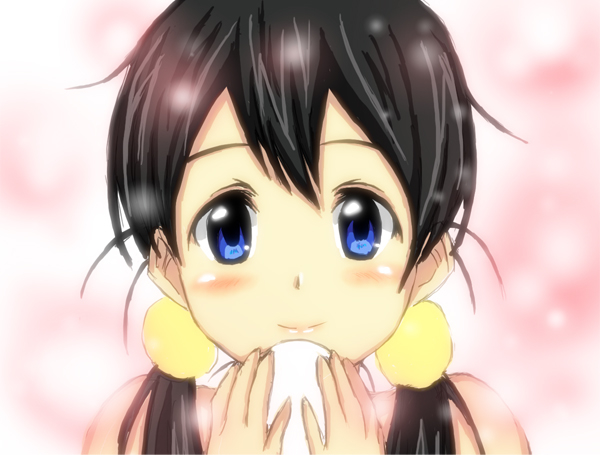 Well here it is… the best reviewed show of the season so far (by ANN no less!). "Tamako Market" is yet another moe-rific series from our friends at Kyoto Animation, namely the same team that previously gave us "K-On!". And, as typical with KyoAni series, it shows very little improvement over the previous ones. It appears that for my first ever clusterfuck entry, I have picked a real winner this time! (sarcasm)
Since director Naoko Yamada and screenwriter Reiko Yoshida have apparently run out of girl rock band manga to make a fortune on body pillows from, we have the story of the titular girl and her "pet" pigeon. I say "pet" because the bird is not much of a pet and more of an interloping nuisance that just wont go away, sorta like that weird penguin thing in Gorey's Uninvited Guest. It also has the remarkable ability to speak fluent Japanese, not as some inner monologue (no that would be too realistic!…like Garfield!) but as some sort of psychic communication everyone else can hear. Now normally I'd be expecting the government to appear suddenly to dissect this miracle of modern science but this is Japan so…
Outside of the bird, its your basic S-O-L show dealing with the trials and tribulations of owning a mochi shop in a bustling shopping center. There's so little meat on the bones of this script that we warp speed our way through several weeks of basically no plot whatsoever in the span of 30 minutes. By the end, Tamako's slightly depressed that she forgot when her birthday was, the bird has become morbidly obese from his dango addiction (hey its what killed Nagisa!) and what little interest the audience may have had has been sorely tested.
In retrospect I can see why this would be so highly regarded considering the competition consists of smoldering crap like "Cuticle Detective Inaba", "GJ-Bu", and (snicker) "Mangirl!". Its pretty damn harmless, well animated, and decently voiced (mostly by seiyuu newbies…and Daisuke Ono for some reason), but there's hardly anything there to keep one interested for very long. And knowing KyoAni, that's probably what they were trying to do in the first place.
5/10 – Lord Dalek
Tantei Opera Milky Holmes Alternative Two ~Opera Kobayashi and the Raven of the Void~
As anyone who's seen the first season will tell you, this is easily the best version of Sherlock Holmes ever committed to celluloid. While each series is – sadly – quite short, the episodes' high level of quality absolutely makes up for it. Picking up immediately where the previous episode left off, the nail-biting standoff between Holmes and nemesis Moriarty ends a bit anticlimactically, but then it's right back into the intelligent intrigue Milky Holmes is widely known for.
I don't want to spoil anything, but writer Steven Moffat (of Doctor Who fame) delivers another excellent screenplay that will leave you on the edge of your seat with twists galore and a unique take on classic Sherlock character Irene Adler – portrayed flawlessly by Lara Pulver in this incarnation. Benedict Cumberbatch returns as the titular detective and once again brings his A-game, leaving audiences breathless 'til the end.
My favorite thing about Milky Holmes is how each episode contains so many nuances. There are always tons of little pieces coming together that make this series work on every possible level; everything is so similar to, yet so different from, the original Doyle stories, that it just works. Hell, I don't think I'd be out of line in saying that this adaptation might actually be better. 10/10 – Foggle
TL;DR
WATCH IT RIGHT NOW
BBC's Sherlock – 10/10
Maoyuu Maou Yuusha – 7.5/10
MAYBE TRY IT OUT SOMETIME
Chihayafuru, Season 2 – 6/10
Senyuu. – 5/10
Tamako Market – 5/10
DON'T GO NEAR IT
Bakumatsu Gijinden Roman – 3/10
Mondaiji-tachi ga Isekai kara Kuru Sou Desu yo? – 3/10
Sasami-san@Ganbaranai – 3/10
Mangirl! – 2/10
Tantei Opera Milky Holmes Alternative Two ~Opera Kobayashi and the Raven of the Void~ – 2/10
Boku wa Tomodachi ga Sukunai NEXT – 1/10
Cuticle Detective Inaba – 1/10
Love Live! School Idol Project – 1/10
———
Our Rating Scale
Many websites rate shows on a scale of 7-10, with the other 6 numbers on there simply for posterity's sake. That's fucking stupid. We here at AR proudly use roughly 250% as many numbers as IGN when scoring anime!
10 – Masterpiece
9 – Superb
8 – Great
7 – Good
6 – Above Average
5 – Average
4 – Below Average
3 – Bad
2 – Terrible
1 – Unwatchable