2013
03.23
I haven't seen all that many Ghibli movies, and the ones I have seen I've already forgotten. So forgive me if my agreeing with the majority that says Children Who Chase Lost Voices is a Ghibli-esque film comes off with some negative undertones.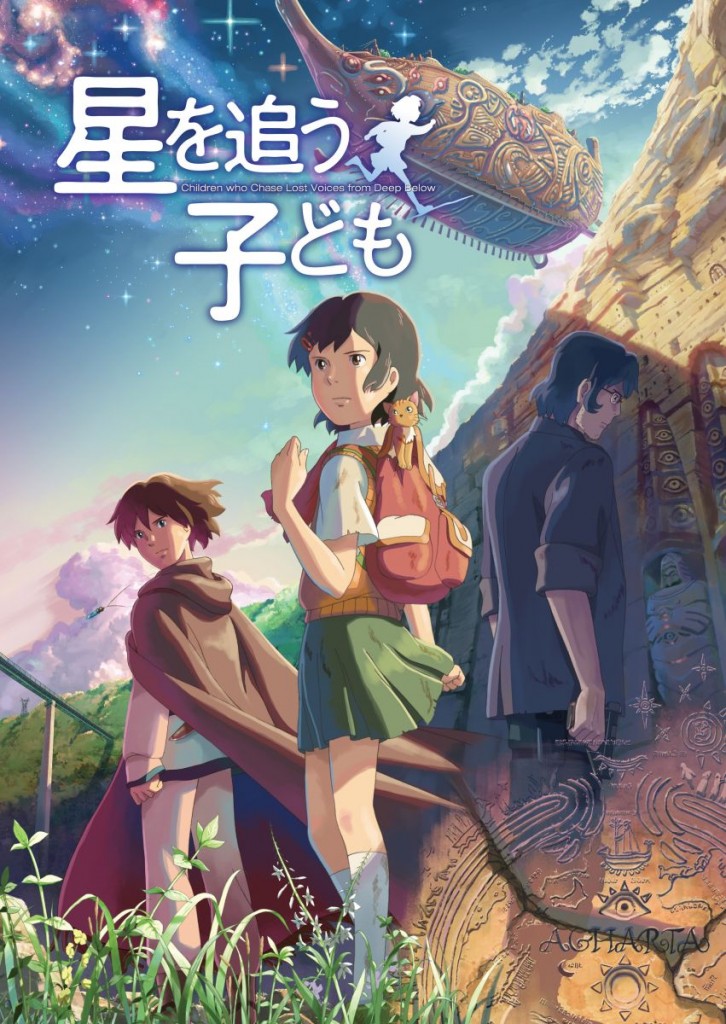 The story centers around Asuna, a young girl that stumbles upon the secrets of another world when she is saved by a mysterious boy who fends off a rather fantastical-looking creature. As expected, she is soon caught up in the mystical world herself as she tags alongside her substitute teacher, Mr. Morisaki, as they make their way through the world of Agartha so that he may resurrect his dead wife.
I must say, while Asuna is established from the start as a very resourceful and strong heroine, to have the real plot kick in by having her be a traveling-buddy for her sub is rather odd. Not only are Morisaki's intentions immoral ("unnatural?" Whatever word works for wishing to bring dead people back), but with exception to some backstory later in the film, we get little to no character building for his part. I'm just saying that for a film like this where the journey makes up a majority of the story, it's a bit odd when those along for said journey don't really interact all that well together… even in an "unlikely partnership" sense. While I'm on the topic, you'd think that considering the title of the movie, there'd be a larger cast of kid characters. I was personally hoping for at least something along the lines of The Goonies when I started watching and felt a bit disappointed when I found the title alone was a mislead.
That's not to say that Lost Voices is a bad movie, though. It's top notch animation and vibrant use of colors really makes the world of Agartha come to life. And from the bright clothing, scenery, and occasional out-of-place violent monsters, the animation really does a good job of further fleshing out the mystical world. It's just that at least in the manner it was represented in, I really felt like I was watching something clearly out of my age demographic.
And, of course, there's the standard abrupt ending that I should have come to expect from any and all movies directed by Makoto Shinkai. In some cases, leaving things open for the viewers to continue works, like in 5 Centimeters per Second. This was not one of those times. There were so many questions left unanswered as well as certain character arcs simply left hanging that I couldn't help but think Shinkai just put too much faith in me to assume a happy ending for the cast, even though the final scene of the movie far from hinted at one (if anything, the final scene felt like a lead-in to some disturbing epilogue).
So taking the pretty animation, journey-centric story, and "don't think about it" ending, I'm pretty much convinced Children Who Chase Lost Voices was Shinkai's dabbling in the child demographic. It wasn't really my thing, but I'm sure some kiddies were left with some long lasting disturbing memories of slain Agarthan monsters and… iunno, whatever else kids like that was in this movie.