2013
09.28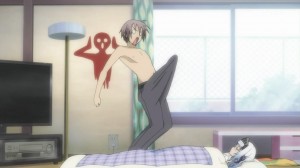 The start of season two gets off to one doozy of a beginning as Ayumu breaks Haruna's magic chainsaw which could previous transform him into a magical girl who could conjure massive amounts of magic and exposes his fondness for pretty pink dresses to the entire school of students! Next, there's an incident with a dreadful dance of doom that turns out to be an unfortunate curse – and an embarrassing trip which does Ayumu no positive favors at all to a maid café where all the undead zombie's live-in roommates work! But the silly shenanigans take a backseat to bigger problems when Ayumu's mysterious drinking buddy who we seldom know about turns out to be the most powerful magical girl of them all! To save his friends and defeat this adorable new menace, the undead zombie boy must do the unthinkable: throw a mixer for his own deadly murderer! With a little help from his loyal harem of vampires, female magical girls with vaginas, and the world's cutest necromancer, Ayumu just might survive to rot another day!
For a story that was 12 episodes and 1 OVA, Kore wa Zombie Desu Ka? had done a pretty good job of keeping a story arc well paced when absolutely necessary. The Season Two DVD set tosses that unbreakable record out the window by making a gold standard that puts the first season to shame and probable seppuku. The set's first episode is entirely dedicated to Ayumu talking to a girl with a multilayered personality you wouldn't find in those Yankee cartoons, while eventually becoming the subject of scorn from a discriminating crowd. The second episode has the wonderful character Ariel confronting Kyoko with something that's too rich for my American brain to understand. The third and fourth episodes deal with dancing and Ayumu learning how to get the "dere" side out of his lovely harem that I wish I could at least fondle. These first four episodes are too original with multiple subplots running into each other at regular speeds, causing a plot resembling Dickens, except Dickens wrote for lowbrow English audiences, while the lovely Kimura Shinichi writes for the elite of otaku such as myself-dono.
Alas, the titular zombie-ness that only happens sparingly in the show is not the shit in the shitake mushrooms. Eucliwood-kun comes down with a fever and needs Ayumu's help to aid her. But after realizing that Eu-chan's been eating too much Tangerine pith—which I assume you Americans don't even know about—Ayumu must help Euc-senpai get the cure so that Eucli-san can get better. This episode has the hook of a crescendo worthy of Hisaishi Jou. Am I right?
Due to a desire to sell Blu-Rays, the real episode one is an OVA, so only the truest of fans can get the full narrative that is Kore wa Zombie desu ka? It's a surreal experience suddenly getting a first episode coming from a season premiere. The stark contrast between the premiere and the OVA—which was definitely not a way to increase sales—both rattles and fascinates. A welcomed lack of any real depth in the OVA spares those silly Yankees any sense of loss. To the American's credit, they have opposable thumbs. So they can fulfill the role of clicking the button on their remote for a sudden and brief stretch before laying a sofa and eating their chipotle vegan hot dogs.
Many notable pieces of animation occur in this set of episodes. Esteemed animator Kanasaki Takaomi provides many points where characters reveal their true demonic nature by shapeshifting at random. Sometimes, Ayumu doesn't even resemble a human being even by anime standards. The blobby expression Kanasaki-san brings to Eucliwood-hime are a treat for the eye, providing a welcome fresh of air after I finish quickly from staring at Haruna's jugglies. Prized animation company DEEN contributes their all to the Kore wa Zombie desu ka? television series throughout by animating the frills on Ayumu's dress with loving detail, kindly giving the animation aficionado a reprieve from vomiting at the details from DEEN's other work.
The extra content in this set contains the usual FUNimation fare of English subtitles to go along with the episodes, an English dub, an English title, English words on the back of the set, an English FBI warning, and personal shame. It also includes an episode 04 and 10 commentary along with an episode 01 video commentary, but I don't think you'd be interested in hearing Americans speak American when failing to comprehend a Japanese anime.
Despite only having a handful of episodes, Kore wa Zombie desu ka? is a work rivaling the greats like Kurosawa and Murakami. If Season Three doesn't get greenlighted soon, I'll have to go to bed with a clean pair of pants.