2014
07.30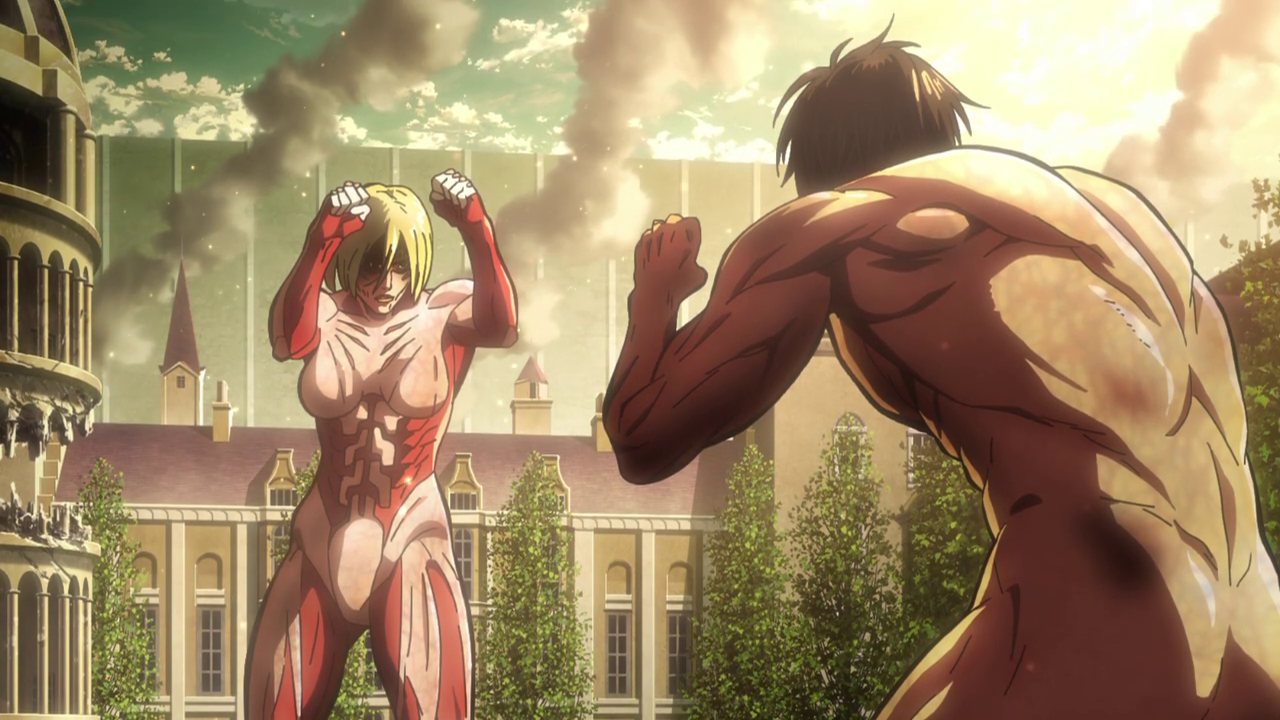 A lot of 'memorable' anime emerged from the year 2013 – Free!, Kill la Kill, Gatchaman Crowds, The Flowers of Evil, the names are presumably endless. But from the titles I've namedropped, I can only see one anime becoming truly 'memorable' – that being Kill la Kill – and soon the rest will be lost to the cults. One anime from 2013 guilty of being forgotten in the future is undeniably Attack on Titan, a show so hyped up it couldn't possibly live up to it, and, it didn't in the end in hindsight. Although Attack on Titan was more exciting and enjoyable than previous 'anime of the year' in terms of popularity – see 2012's Sword Art Online – it wasn't exciting as expected overall, and the saddest fact of all is that it could've been. It held so much promise, promise that could be fufilled if it was executed well.
It has been more than a year since Attack on Titan first started airing. Any place on the internet you would go to during its airing, you would see at least one mention of it. There was no escape from it. Fortunately, the talk about it has died down, and most of its fandom remain seated on either MyAnimeList, tumblr, or YouTube. Just for the record, I am a fan of Attack on Titan. I watched the show as it was airing, I plan on eventually owning the series, I own volumes one to four of the manga, and I even cosplayed as Mikasa in July at London's Film and Comic-Con. Even I must say the show wasn't the greatest anime of all time like many people are saying – hell, the show is far from great in the first place, although it does come close. So, so close.
First, the show's shortcomings – its pacing, character development, and storyline. 25 episodes at 24 minutes each shouldn't be so much of a drag. It also doesn't help that it has a recap episode halfway through its run, but that may be skipped if the viewer wishes to. The show had such godawful pacing at times it felt like the storyline stopped completely at places – see some episodes of the Female Titan arc. The Trost arc was such a struggle to sit through despite its captivating premise and well-animated fight scenes, and it was entirely possible for some of its scenes to be merged into other episodes of that arc. 9 episodes for such a simple plotline felt completely unnecessary. The opening to the show itself was brilliant (albeit not as shocking as people were saying), but dragged down by a training arc that took place later in the manga. Luckily, that arc didn't last long and offered moments of lightheartidness.
The characters themselves also held much promise – namely Eren Jaeger. Eren had the possibility of not being a stereotypical anime protagonist, and the show had highlights of uniqueness with Eren, but soon he became a character fixated soley on killing the antagonists by the end. Mikasa was a character who could have been developed so well, and she was a much better character than Eren was overall – unfortunately for Mikasa, she was simply relegated to protecting Eren in the key moments of the plotline, but kudos to the show for providing believable motivations on Mikasa's part. Mikasa was a character with both strong points and weak points, and it would have been interesting for the show to dive into her weak points in more depth – all I remember is that Eren is both her motivation and downfall, along with her other friends. Armin Arlert was an example of a character who was very well developed, going from a meek boy to a intelligent teenager and admittedly, the show could have been better if he was the protagonist in my opinion. Armin's development was actually quite subtle at times, so I give the show credit for that too.
The storyline had moments where it grabbed you and refused to let go – namely the action scenes. The trouble is, for me and many others, despite the action, it wasn't very fun even if you enjoyed it. I never felt anything when a character died, I never felt anything when a character was fighting a Titan. The show did try to get you to know the characters before they died, but I didn't feel sad or upset when said character got offed. The character I found myself liking the most was Zoe Hange, a fun and easygoing woman who is a member of the Scouting Legion who has moments of clarity and seriousness. She was the light in the show's darkness. The show tried far too hard to be dark and edgy with no actual moments of hilarity unlike other anime who use it to their advantage – and bless the show, it tried. Sasha Braus and Connie Springer started off as comic relief characters before transitioning into more serious characters, another thing I credit the show for. After their transition, the only comic relief came from Hange and the unintentional hilarity from the Titan's character designs – it would've been nice to see at least some humour come from other characters. You can sum up the show as grimdark, something that took itself too seriously and tried its hardest to shock you. Sometimes, that isn't a bad thing. In Titan's case, it is, as by the end of the show the little sprinkles of humour had vanished. I know the show was reaching the end of its run with a climatic finish, and humour isn't always necessary – but when you have a show so 'dark', dark comedy really helps provide realism. People always find comedy in the darkest situations. I know it's a show about giant naked people without genitals eating humans, but a little bit of realism with its characters would have done the show a world of good. Realistic characters are never a bad thing, and they almost always make the characters more likeable and relateable. The ending of the show leaves an awful lot of questions asked unanswered, and it even feels slightly unfinished. Given the popularity of the show, a 2nd season is almost guaranteed eventually.
Now, the good points. The animation is breathtaking and fluid, with its action scenes crisp and sharp. Its animation studio, WIT, is newly established and has ties to Production IG, which explains the godlike animation – IG has animated shows like Ghost in the Shell: Stand Alone Complex, Guilty Crown, Eden of the East and Psycho-Pass. An aspect of the animation I enjoy is the thick black outlining of the characters, making them bold and stand out more among the backgrounds. Attack on Titan is WIT'S first production, and they pulled out all the stops. The show has fantastic and consistent animation, and the parts where it does not have consistency it is hardly noticeable. Although character designs are run-of-the-mill, they do transition well. The original Japanese acting fit the characters too – I have yet to watch the dub, but from what I've heard Trina Nishimura and Jessica Calvello fit both Mikasa and Hange well respectively. The choice of Bryce Papenbrook as Eren is a surprise indeed, especially when you remember he voices Kirito, and with his other roles, I can't see him fitting Eren particularly well, but I have yet to watch the dub as stated before, so maybe I'll be proven wrong.
The music, composed by Guilty Crown and Kill la Kill's Hiroyuki Sawano is a memorable soundtrack indeed, with songs like 'The Reluctant Heroes', 'Bauklotze' and 'Vogel im Kafig' being the most memorable vocal tracks. Sawano regulars Aimee Blackschleger, Cyua, Mika Kobayashi and mpi all contribute to the vocal tracks and provide likeable vocals. Non-vocal tracks such as 'eye-water', 'counter・attack-m'aenkaind', '進撃st-hrn-egt20130629巨人', '進撃st-hrn-gt-pf20130629巨人' and '進撃gt20130218巨人' stick in your head as moving pieces of music, to the point where the music is perhaps more moving than the show. Yes, the title of the tracks are complete nonsense, but most of Sawano's songs are named like that if they are not vocal tracks.
The opening and endings of the show are very, very good pieces of music, even if the 1st opening Feuerroter Pfeil und Bogen by Linked Horizon was so overused by people it hurt to hear it. No doubt about it, the show may very well be remembered by that 1st opening alone, even if the 2nd opening Die Flugel der Freiheit is my personal favourite, in terms of both the music and the opening animation. The openings alone always made me excited to the watch the rest of the show. The 1st ending, This Beautiful Cruel World by Yoko Hikasa, boasts beautiful animation and a calming song centred mostly on Mikasa Ackerman's thoughts on the world around her. The 2nd ending, great escape by a new band named Cinema Staff, also boasts amazing animation and a likeable enough J-Rock song.
The characters, even with the lack of development, are likeable enough. Eren, Mikasa and Armin are all likeable protagonists, with Levi, Jean, Zoe, Erwin, Ymir, Annie and so many others likeable too. There are few characters I dislike, so the show does a good job establishing characters, but sadly with not developing them. I even felt some remorse on part of the identity of the Female Titan revealed in the anime. At least the show got me to care about some of the characters on some part. Unfortunately, with some characters who died either early or late, I didn't really feel much, but the effect it had on Levi when the deaths were later in the series was believable enough.
Attack on Titan was a pretty decent show. I like it. It's not fantastic, nor is it great, but it's solid enough. It's a show that was burdened with unbelievable amounts of hype that it could never live up to. I don't have many expectations for anime apart from 'make me feel something' and 'don't be Clannad'. The show lived up to some, mostly animation and music-wise. Even with this, I know it's going to fade away into obscurity like Sword Art Online is going to – also a show with unbelievable amounts of hype it never lived up to – because it isn't very memorable overall. If it had better pacing and storyline treatment, it could have become so much more – it could have been memorable enough to stick around for a few more years, even with its opening helping. I feel it will only be remembered for either Levi (thanks to the fangirls), Feuerroter Pfeil und Bogen (meme status) or the soundtrack, or the controversy stirring around Dot Pixis's design or the mangaka himself, Hajime Isayama.
Is it a show worth watching? Maybe. The show was (of course) popular enough to warrant two recap movies Puella Magi Madoka Magica style, with the first one named Guren no Yumiya being released on November 22nd in Japan with new animation and voice acting. The 2nd compilation film, Jiyuu no Tsubasa, is set for release in 2015. It may be worth the wait to watch these compilation films when the Blu-rays for them are released, as I think you will be able to get the entire story from these recap films alone. If compilation films aren't your thing and you are lucky enough to live in the US, it may be worth your while to watch the FUNimation dub on Toonami if you are interested. Just don't have your expectations through the roof like so many other people had, because chances are you are going to be disappointed if you do.