2015
01.31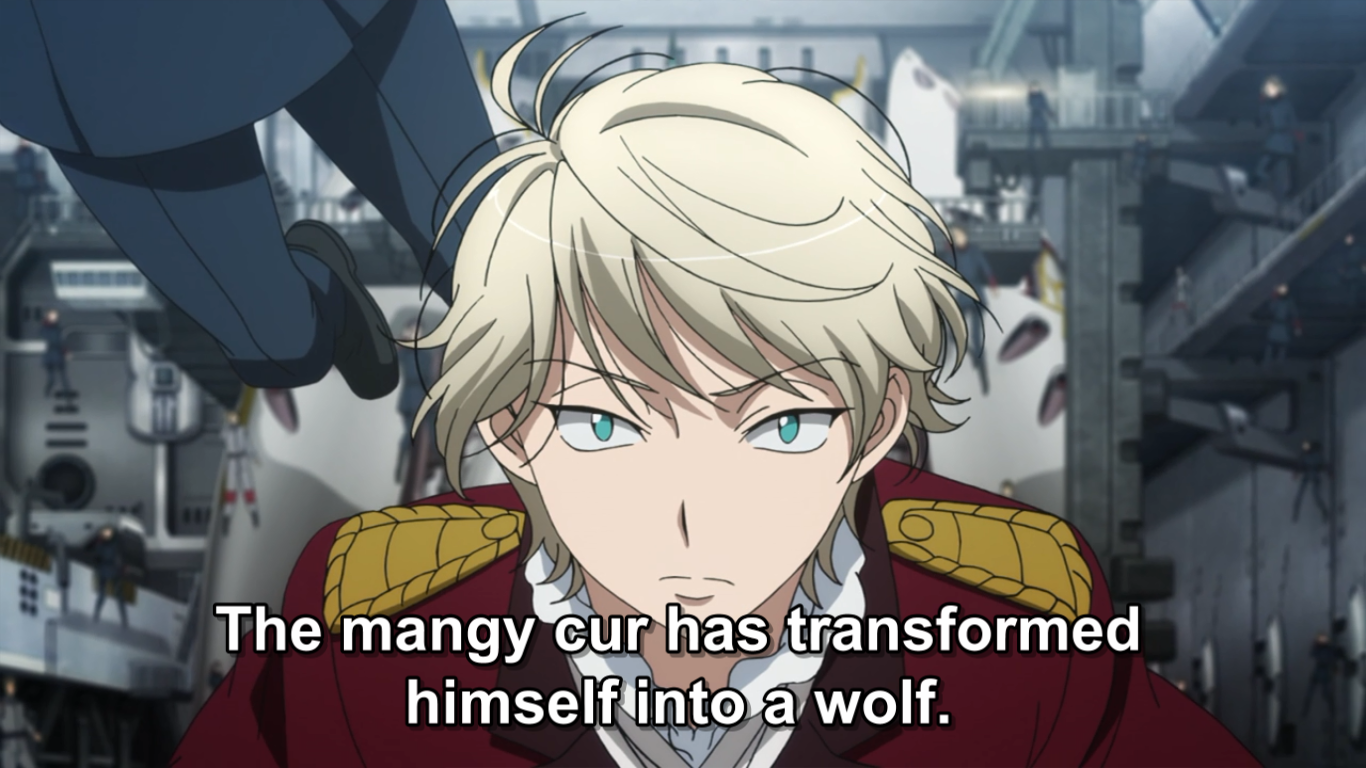 Unfortunately (or fortunately, if you're me), Aldnoah.Zero decided to take this week easy on its viewers, so this review will be quite short, as not much happened.
Luckily enough, Aldnoah did not hit a new low today, as the show took time to reintroduce Yuki, Inaho's sister, and Marito, the best girl of Aldnoah's 1st season. Marito now suffers from a new form of post-traumatic stress disorder, in which the brain deliberately triggers distressing imagery when facing danger, even though he's apparently gotten over it – or so the show tells us. I don't know, it's not very good with dialogue and I'm terrible at guessing. Essentially, this is used to show off how amazing Inaho is, as he subdues a Vers Kataphrakt from 40,000 miles away while in space via his amazing robot eye when Marito is under pressure, because that's what the plot calls for, I guess.
Slaine has now taken to wearing a Count suit, in honour of his totally-cool-and-not-malicious deceased "father" Saazbaum. He drives around in his pimped-out Tharsis, impressing his fellow Count ho's and swooning his aide Harklight, like they were out of Legend of the Galactic Heroes. Slaine has suddenly transformed from the somewhat-shy but determined young man he was in previous episodes into an unstoppable Terran-hating machine for no decent reason, apart from the obvious reason of 'plot!'. Saazbaum calling Slaine his son ten minutes before his death in the previous episode does not constitute character development.
Honestly, nothing really happened this episode. There seems to be a lot of Count's that bear an uncanny physical resemblance to Cruhteo, and Cruhteo hasn't popped up yet, and it is inevitable that he does, since everyone else lived. Lemrina still has the worst hair possible in anime. Inaho is a terrible and boring character who manages to save the day because he is Takayama's saviour when it comes to advancing the plot. It appears the only thing this episode is meant to do is reintroduce Marito and change Slaine's character. It could have been done more convincingly, to be completely honest. Also, Aldnoah.Zero, we've noticed your little literary references as episode titles. It doesn't make you better nor does it make you smart.
Here's hoping that next week offers more to discuss than boredom, Gary Stu-ness and mind-numbingly dumb CG usage.