2015
10.09
EDITOR'S NOTE: We'll be adding Shadow's entries later this weekend hopefully.
Asterisk War: The Academy City on the Water
Greetings all and welcome to the umpteenth edition of AR's Anime Clusterfuck, in which we once again probe the dark crevice that is modern television anime and end up with something long and yucky! And what better way to start this off than yet ANOTHER show about magic schools and bitchy pink haired tsunderes!………goddammit.
So after the lamest apocalypse ever, a Nippon/Deutsch conglomerate has apparently taken over the world and created a series of dueling schools where students train to BRUTALLY MURDER EACH OTHER with lightsabers. Admittedly that sounds kinda cool, and the initial scene where a megane girl is left withering in a pool of her own blood by Rau Le Creuset shows some potential.
 …unfortunately that scene is only 30 seconds long and then we're back to the adventures of Normal Guy as he gets into WACKY HIJINX!!!(tm) with a bunch of morally bereft ingenues wearing extremely tight miniskirts, mile high stockings, and gigantic bustiers. Our hero Ayato is just trying to solve the mystery of his older sister (that aforementioned megane) but, immediately failing at that, gets every female character to either fall for him, cut his willie off, or threaten him with a baseball bat with exposed nails (and that one's his teacher!).
Every time I see a show like Asterisk War (and anyone who's followed these Clusterfucks for a while knows I've seen a lot) I feel like I've hit rock bottom with this banal genre, and then the industry figures out a new way to somehow make them worse. In this case, it feels like the makers felt last year's godawful Irregular at Magic High School was lacking in both tsunderes and IS-esque island utopias so they've grafted them on, given everything a shiny coat of cgi paint, and tried to pass it off as some new original property as opposed to what it is, another shitty adaptation of a paint-by-numbers light novel. Nice try A-1, you aren't fooling anyone anymore with this crap. — Lord Dalek
 Second Opinion!
Ring, ring, ring.
"Hello, this is the operator."
"You have to help me. (heavy breathing) I'm in the middle of watching an anime—"
"Sir, this is for serious calls. If this is some kind of prank, I'm more than willing to redirect this to—"
"No, you don't understand! The main character just peeped on a girl while she was changing and now she's trying to kill him."
"…oh, hot damn, you should've said so."
"Yeah, I'm in one of those light novel anime where there's magic, and there's lightsabers, except they don't call them lightsabers because they're afraid of getting sued, and the main guy just grabbed the girl's boob, and I'm so sc-sc-scared!"
"Okay, I can tell you're indubitably fucked, but I'm not sure how calling me can help you out of this."
"Please! Now the class president's here and she's got straps on her stockings and the giant boobles!"
"How giant?"
"Big as her head giant. And she's walking down a CG hallway."
"Oh dear God."
"And now she just showed off her crotch lines!"
"I'm sorry, mister?"
"Marquis!"
"Mister Marquis, but I've seen multiple cases like this, and I'm afraid they're nine times out of ten terminal."
"No fucking way is this terminal. I need help right now, so give it to me!"
"Ain't no way you can get out of a magic light novel anime. I could patch you to a suicide hotline if you think that could help."
"Fuck that!"
(cat meows)
"Sir, I know you're in a tough situation, but calm down your language. I'm trying my best."
"You're not the one watching this guy get talked down to by a pink-haired tsundere while they're planning some global magic thing! (heavy breathing) And now they're talking about how the pink haired girl's the popular girl and… I can't handle this! (sobbing noises)"
"Are you done?"
"And now one of them has a fucking scouter… (heavy breathing)"
"Marquis?"
"And another guy's name is Lester McPhail. His fucking name is Lester McPhail and you can't help me with this. (sobbing noises)" — Bloody Marquis
Aria The Scarlet Ammo AA
Aria the Scarlet Ammo Double A is the latest in a trend of "take an old manga or light novel and make them guy" spinoff adaptations. Now, I have not watched the original Aria series, but from what I understand its just a haremshit series with a Shana clone, so I know I'm not missing much. Double A follows Akari Amamiya, a first year student of a paramilitary school that idolizes the titular Aria, for some reason. There is one problem however: Akari kinda sucks at everything. She's an E-rank student with absolutely zero success in any of her tests, so she decides to request for a mentor to take her out of shitsville, and who better than to do that but her beloved Sempai? Surprisingly, Sempai actually notices her, and after a drawn out test that spirals out of controls, Aria agrees to mentor Akari…sort of.
One thing I can say about this anime is how surprisingly likable Aria is in this version. I was expecting her to act like your typical Shana clone in this version, but not once did I hear a "baka" or an "urusai!" come out of her mouth, hell, I don't even remember her raising her voice outside of fight scenes. As a result, Aria comes across as a legitimately cool, even kind character who just happens to have a high-pitched voice, that you can actually see why someone would idolize her. I'm also a fan of the character designs (though Akari herself looks a bit too bland and moe), and the OP is one of the seasons best. If there's one major flaw I can find, it's that the animation isn't that noteworthy, and the main character doesn't do much for me, there are also a few buttshots sprinkled about that are just gratuitous and unnecessary. Nitpicks aside, Double A fine anime in an otherwise lackluster series. — Crimson Rynnec
Not an Opinion!
I was originally going to do a write up of this show but as you can see…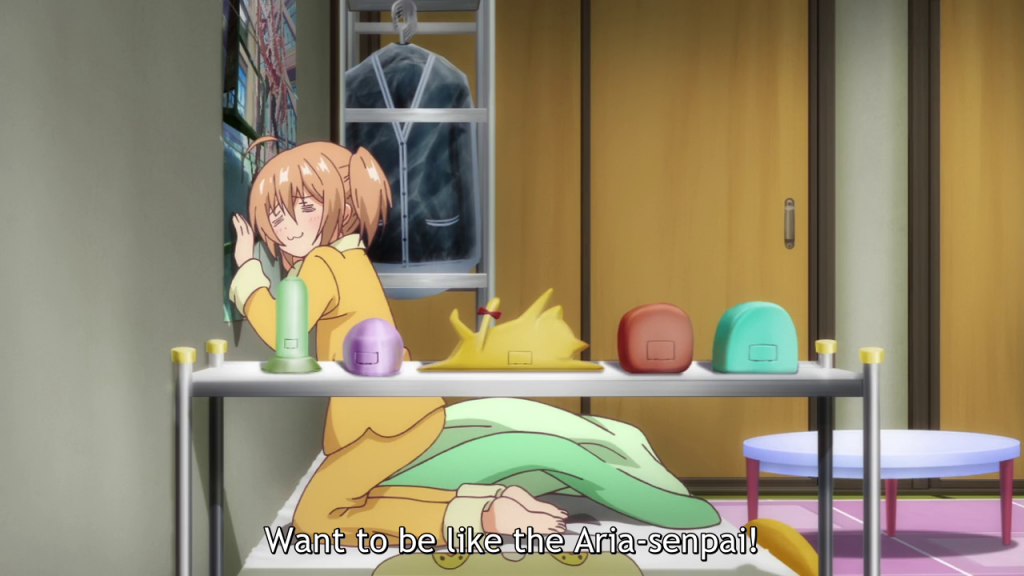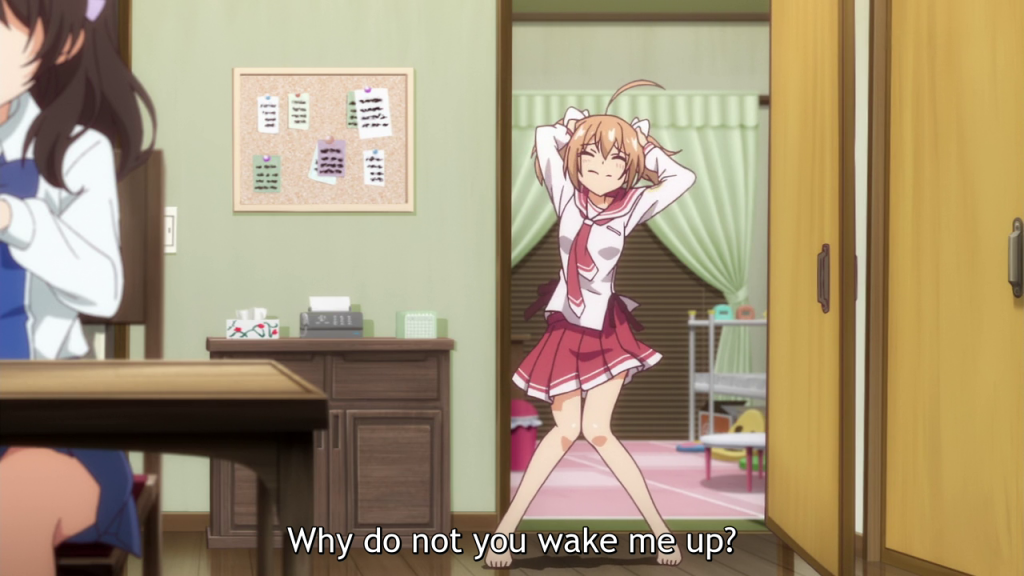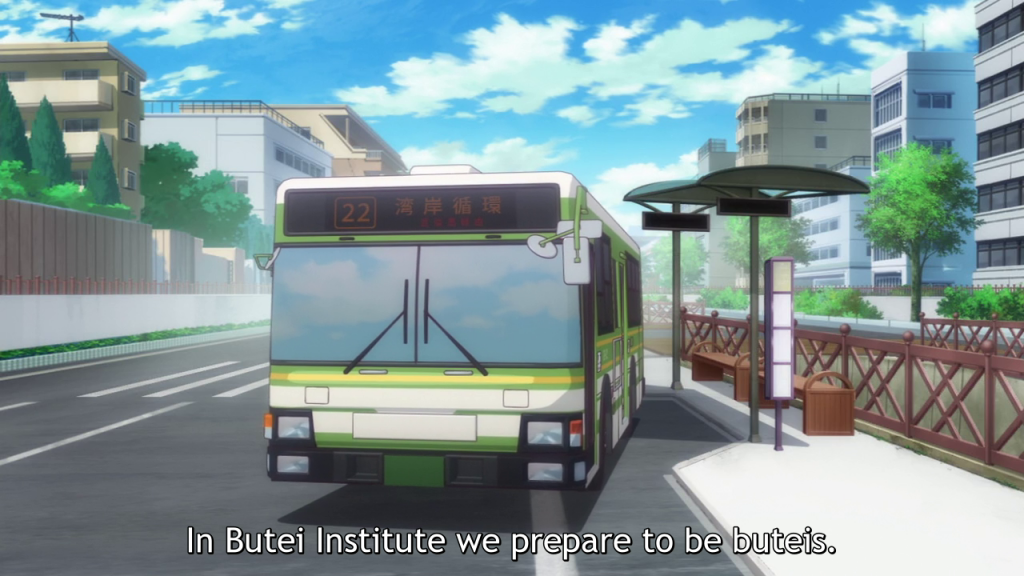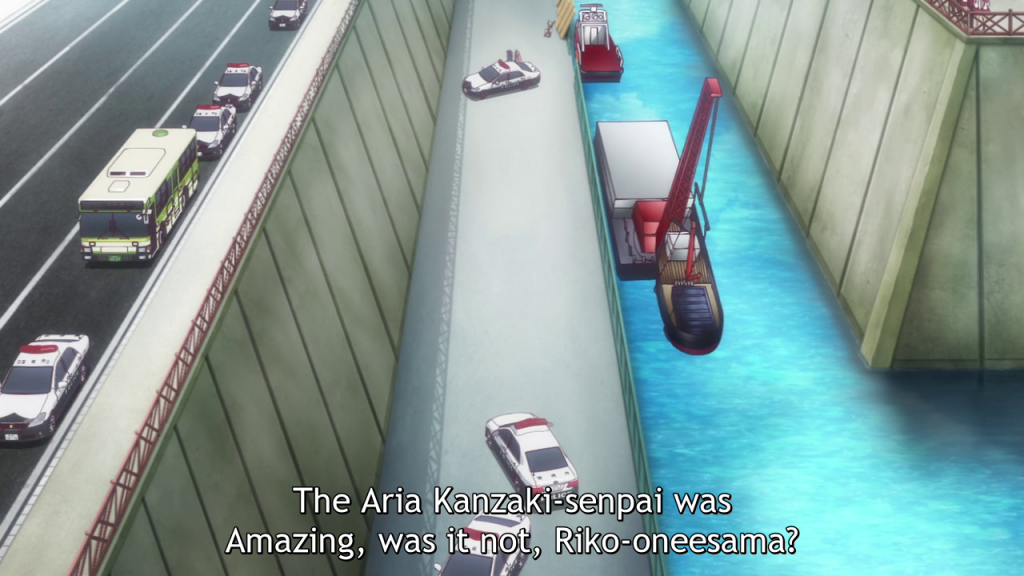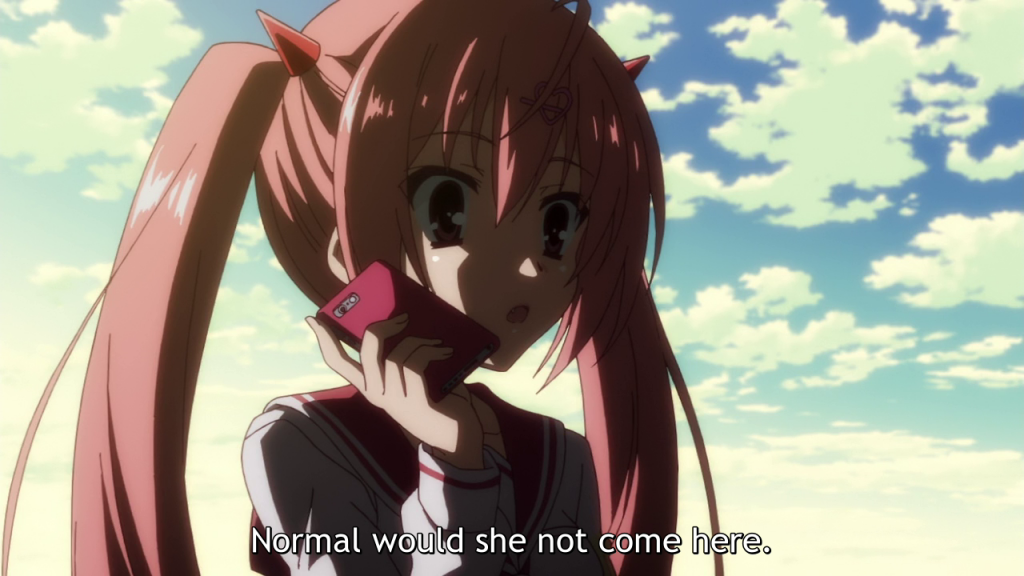 I personally feel this show speaks for itself. — Lord Dalek
Beautiful Bones -Sakurako's Investigation-
Columbo-style "how they did its" are always better than the traditional whodunits for me. They offer more insight instead of everything being defined by a single twist, making the detective really stretch their nerves in figuring out why a murder happens. And that's what flows through this show's veins, or specifically the bone marrow. After last season's abysmal Ranpo Kitan, it's nice to see a better-written mystery running. Instead of how haphazard that previous show's view on criminology was, Sakurako knows its vision on forensics is weird, and mines that for intrigue rather than exploitation. The show doesn't revel in the gore from crime scenes, but insists on thorough examination and an outward interest in the craft to get things done.
Instead of being unsubtle like using faceless masses to indicate the anonymity of today's society, we get more nuanced approaches like fish-eye lens perspectives to illuminate this anime's atmosphere. Yeah, the dead cat in the opening scene was a bit weird, but at least they didn't try fetishizing it or anything just as unfortunate. This show knows that its subject matter is odd as it is and tries analyzing the nature of forensic anthropology, not as a job but as a hobby any eccentric could have. Through that, we see her character and all her flaws. A bit too early to call it a character study, but there's some tics suggesting that. And I know there will be inevitable comparisons to that other series about a woman obsessed with bones, but I didn't see much to link those two.
I don't like Shotaro though. He's a terrible point-of-view character whose narrations become redundancies as soon as he opens his mouth. The first few minutes of him prattling on about time ceasing to exist and the hatred of change were nothing but heartless navel-gazing. Even worse is that we have to rely on his descriptions of the city for a clue to his hometown. The animation certainly doesn't show a stagnating town, but Shotaro has to say it three times in a row for us to apparently believe it. Furthermore, he makes a bad Watson. We can already sense what Sakurako does through her actions without him needlessly explaining, and his banter with her does more to interrupt topics than delving into them. He's more obsessed with Alaskan shrimp than the promise of finding a murder. We're meant to see Sakurako as inhuman and somewhat daft, when Shotaro's the one with a few screws loose. If it weren't for him, this show would be great. Though I'm sure the straight shota fans will dig his personality. — Bloody Marquis
 Chivalry of a Failed Knight (AKA "A Tale of Worst One")
WOW! I could have swore I just watched this show! OH WAIT… I DID. In fact, within five minutes of the first episode of Worst One, I was already considering the possibility of simply copying and pasting my write-up of Asterisk War, rewriting some names and presenting it as is. But that would put me on the same level as the writers of this steaming pile. Yes it seems we've finally reached the point where light novel adaptations have become nothing more than glorified volumes of Mad Libs. You've seen one, you've seen 2000.
The plot. BLAH BLAH BLAH MAGIC SCHOOL. BLAH BLAH BLAH GARY STU. BLAH BLAH BLAH RED HAIRED TSUNDERE. BLAH BLAH BLAH DICK HUNGRY HAREM. BLAH BLAH BLAH HE'S NOT REALLY "THE WORST ONE" BECAUSE STANDARDS ARE SKEWED. BLAH BLAH BLAH BLAH BLAH BLAH YADDY YADDA ANTI-DENTITE. Well, glad to have that out of the way.
They say chivalry is dead. I wish Chivalry of a Failed Knight was dead. Alas. — Lord Dalek
Comet Lucifer
I like Hayao Miyazaki. I like him a lot. His movies bring a degree of craftsman ship rarely seen in anime and his few tv works frequently elevated the el-cheapo standards of late-70s, early-80s product. So why am I bringing him up? Because Comet Lucifer desperately wants you to think its Laputa: Castle in the Sky. Even more so than in Yamakan's legendary trainwreck Fractale from five years ago. Why set such lofty standards,  I do not know. Clearly 8bit had some cash to burn after Grisaia and this is their bid for legitimacy. If that's the case, then its not a good one.
So in Generic Anime Fantasy Land #19503132, everybody wants rocks known as Giftanium for reasons known only to the writers of this series. However, noone wants these rocks more than our hero Shogo, a twerp who can't tell if he's cosplaying as Simon from Gurren Lagann or Amy from Gargantia. Because the plot dictates as such, he and his not-girlfriend Kaon end up falling down a really big hole in the center of  the local steampunk mining town where they discover more Giftanium and a comotose loli who floats into Shogo's arms ala oh wait I already said this was trying to ripoff Laputa. But you know what else this is a ripoff of? Eureka Seven! There's an evil empire out to get the Giftanium with their giant robots, however sleepy loli has the power to somehow magically generate robots to fight the other robots. Will Shogo and Kaon escape with their lives? TO BE CONTIN–ah screw it.
 I can't exactly put my finger on what's the problem with Comet Lucifer aside from the fact that it feels like a Frankenstein-style creation assembled from other, better works. The sequence of events leading to the episodes main act comes off as contrived, relying on too much coincidence as a way to avoid having to spend a whole second episode trying to get the two characters into the cave. There doesn't seem to be much rhyme and reason to this world either as people dress like either valley girls or 19th fops while driving hover Priuses. I find that distracting. On the other hand the mecha fight at the end looks pretty solid and the soundtrack is above average. That isn't enough to make me want to come back though, so too bad. — Lord Dalek
Concrete Revolutio
Well, this was one of the stupidest shows this season. I know I say that often, but it wasn't the kind of stupid I just roll my eyes at or go to another window until the show finishes. It was a gripping kind of stupid. I probably spent half of the episode slack-jawed at everything going on. I thought I was watching a superhero anime, then it becomes magical girl thing, and then there's a giant robot fight. This all happens as haphazardly as that last sentence. I'm trying to think of how all this can be stringed together into a single narrative, but then I remember the talking cloud and give up. If I could get away with it, I would just write, "This is fucking dumb" a hundred times and call that an entry.
And yet, it was kind of fun. I kept thinking how many Jack Kirby comics and 70s anime Seiji Mizushima and Sho Aikawa binged on before working on this. Everything in this episode screamed "Silver Age!" to me, about as unsubtle as the main character's hair. It's less like a show and more Studio Bones making a jumbled series of throwbacks. I almost want to say this show does to superheroes what Space Dandy did to raygun gothic. There are so many loving references and bizarre allusions that I can't say the creators weren't well read when going into this. But I can't tell if it's either a tribute or a parody to the genre.
Which frankly, is the show's biggest flaw. It's absolutely indecisive on what it wants to be, and there doesn't feel like a main point that concentrates all of these scenes into a prime idea. I would be perfectly okay if it was just nothing but outlandish fight scenes, but then the show gets serious and acts like we were meant to view the preceding scenes without giggling. Beyond all the goofy animation lies tired ideas like superhuman prejudice and "who guards the guardians" nonsense that better writers have thoroughly buried into the ground. And even some of the jokes have lost their value a long time ago. So Kikko has a thing in her boobs that talks and makes her embarrassed. There's nothing beyond that. It recreates the old days without thinking about the time that has since passed. If you're going to take something old, say something new about it. Otherwise, you're just fucking about and reminding people why we've moved past prior eras of works. I still think the show's entertaining, but in spite of its writing than because of it.
Plus, it's shiny. — Bloody Marquis
Dance With Devils
Well, its finally happened. For once, I am speechless. Dance with Devils has rendered me mute. Is that so surprising? Of course not. This is a show that defies description. Oh sure, you could just peg it as this years installment in what has become an annual series of horrible otome game adaptations from the increasingly irrelevant studio Brains Base, but that's just the beginning. This is a special kind of terrible. The kind that just doesn't simply catalog itself in any particular fashion. The kind that makes you wonder how the hell do shows like this get made in the first place.
The plot of the show plays like a half gender flipped version of Suspiria. At yet another upper crust Euro-style Japanese prep school that only seems to exist in VNs and anime, we find young Ritsuka summoned by the student council (a group of bishies whose clothes seem to be falling off) for…some reason I don't know. Apparantly they're all demons looking for a missing Grimoire and Ritsuka's family (including Mom who gets killed, and dorky cleric brother) may have something to do with. But our crack team of bishounen hellspawn are on the case! …as soon as they finish singing their song.
…wait singing?
….Song?
AHAHAHAHAHAHAHAHAHAHAHAHAHAHA!
Yes… Dance with Devils… is a musical! ……… I would have never guessed.
Its a bad one too. I'm not gonna lie, this is pretty terrible. There are three songs, one's the evil cultist theme which is all evil and cultist and yeah whatever. Then we have the Ritsuka song! You remember "Belle" from Beauty and the Beast? Well this is the shitty version. It's… it's…so wonderful. And finally we have the introduce the evil rapist student council, which is kind of a red herring since its other people who are creepy rapists in this show. Hah I thought it was bad enough when the cast of Kamigami no Asobi tried singing their ed in bad rotoscope vision but this… this is something else.
So why watch Dance with Devils? I don't know really. I guess its better than Diabolik Lovers? I mean that show is pretty blunt with how terrible it s while this is more "OH DEAR GOD YOU HAVE GOT TO BE KIDDING ME!!!"-levels of rug pulling. Otherwise you're better off watching a real musical, like Orgasmo! — Lord Dalek
Diabolik Lovers More,Blood
So let me make an unpopular opinion here among the other reviewers: I get why people are attracted to Diabolik Lovers. Some people want to be treated cruelly in a form of sub/dom play. It doesn't even have to be straight-up foreplay. Audiences could think an aggressive and violent man is alluring instead of alienating like I do. This is kind of like those attracted to Sean Connery from his old movies. He does morally objectionable things that wouldn't fly in today's world, but you like in spite—or perhaps because—of his vices. You can't justify the Pussy Galore rape or the "Men come first, women come second" quote, but you recommend these movies anyway because you see good beyond those issues. Many rabid media junkies will often discover their own Sean Connery, and that's what Diabolik Lovers fans go through when having to admit their fandom.
Not to say this is a defense of the show itself, since it's still questionable. Everyone still treats Yui like shit. It still feels like we're on step one as far as her relationship with the vampires go. They call her bitch and pancakes while threatening to drink her blood. What else is new? Only thing that tells you this isn't the first season again is the entrance of the new characters, who also want to drink from Yui but are separate from the other guys for some reason. I guess the appeal in another season is that it gives you more dating options? People who weren't sure about the previous series might be swayed by a blonde vampire choice instead of ginger, ginger with hat, shota, glasses, albino, and vague orange. Probably not, but I'm sure someone will be enchanted. — Bloody Marquis
Haikyuu! Second Season
Haikyu!'s first episode was one of my favorite premieres of last year's spring anime season. I loved the characters, loved the concept, and everything about the production caught my interest. I eventually fell out of the show because of other commitments and interests, but I still really liked what I saw of it, and ended up deciding to keep up with the story through the manga instead since that was more convenient for me at the time. Suffice to say, if you were to ask me what my least favorite Weekly Shonen Jump manga to keep up with is these days, I'd answer Haikyu! 
No, you read that right.
Yes, Bleach exists and is perpetually shit, but at least it gets a reaction out of me most of the time. In contrast, I've found myself utterly bored with Haikyu!'s output this entire year. Which I really shouldn't be, considering both of the matches depicted in the series this year have been big games with long-standing rivals. But somehow, the series can't seem to make me give a damn about anything that happens in it anymore. And I was already having trouble doing that as it was before. My issues with Haikyu! as a series didn't just start popping up with the recent game. I've found much of the series, particularly the first year's worth of chapters, kind of a chore to read through. But the thing is, it's not because the writing is particularly bad. Though, it isn't very fantastic either. It's just very average, and the beats of the narrative and character arcs are often very seen-this, seen-that. It really doesn't help that the series tends to rip off crib on Kuroko's Basketball's storyline, and otherwise follows the general shonen sports manga formula and archetypes without any real deviations to the norm. The weak art and shitty shonen humor really don't help my enjoyment of it any either.
At it's best, I've found the series to be a decent read. But in a time where almost every series in Jump has been nothing short of excellent, with even more inconsistent series likeBlack Clover and Toriko still regularly experiencing incredible highs, Haikyu! stands out as woefully mediocre and subpar in comparison. Maybe I need to wait until the current game ends to re-read it, and I might like it better. But I haven't had any trouble keeping up with other sports manga as they've been running and enjoying them, nor have my opinions of games I haven't liked in those series ever been improved by reading them in one big chunk, so I'm doubtful.
So as you might guess, I'm very much meh on the Haikyu! manga. So trust me when I say that it's anime adaptation is exceptional, and well worth any sports anime fans' time. No, the anime doesn't change the story or the characters any; they are presented the same as the are in the manga. But what it does do is enhance the story with great directing, excellent animation, a kick-ass OST, and nuanced voice acting that sells it exponentially better than the manga's weak presentation ever possibly could. Sure, the humor still sucks and is painfully unfunny. Sure, the story is still kinda been-there, done-that. But the games have much more tension and thrill in them. The characters really come alive, and the skillful performances for them make me care about and invested in them all the more. Barely anything actually happens in the first episode of this season premiere, and yet, it moved by incredibly quickly, and I was engaged and entertained by the episode the entire way through.
The Haikyu! anime is a great, quality adaptation that actually improves upon it's source material's weaknesses, and as a result, is a better show for it. It shouldn't be, but that's a rarity these days. My two favorite manga currently running in Jump, Assassination Classroom and Food Wars!, were only given adaptations that were serviceable at their best, and much inferior to their source material at their worst. They both suffered from lackluster directing, animation, and pacing (and in the case of FW!, pointless fan-service) that would have made for far poorer shows if the manga they were based on aren't as good as they are. And let's not get started on Toei's revolting bastardization that is the World Trigger anime, or Shaft's pointlessly artsy Nisekoi anime, or the continued suckitude of the ongoing One Piece and (for some reason) Naruto Shippuden. Seriously, Shonen Jump and shonen series in general would have a way better reputation among anime critics if most of them weren't regularly given adaptations that so ardently detract from their enjoyment.
Somehow, miraculously, Haikyu! has managed to receive the one of the few genuinely worthwhile ongoing anime adaptations for any Jump manga currently running or that has been run in the past 5 years, Gintama being the only other exception. I don't know how it managed to get so lucky – in fact, it actually kinda bothers me – but hey, I won't look a gift horse in the mouth. I liked the portions this season of Haikyu! will cover well enough in the manga, but I have a feeling I'll enjoy them infinitely more in this anime adaptation. If you're new to Haikyu!, this isn't the worst place to get into it, but I don't know why you wouldn't just want to start at the beginning anyway; there isn't that much of a backlog. For those already initiated with the property, this season looks to continue the level of excellence the first season had if not even better, and should continue to be a rewarding show for any fan of good sports anime. — Cartoon X
Heavy Object
War… war never changes… until the day the Japanese government introduces giant bowling balls with a bajillion guns into the fray, then things get even more boring. Heavy Object is the cure for insomina, a potentially interesting idea mauled to death by bland writing, bland animation, and bland bland. Its an adaptation of a LN series by the blowhole responsible for the similarly halfassed Raildex franchise and animated by the bargain binners at JC Staff. Yayz???
So let's get the big problem out of the way, this is another show that doddles in a vast miasma of technobabble and world building in place of honest to god narrative. The story is that there are Technodromes. They fire layzars. That's about it. There are four characters, the pilot of a out-of-date Technodrome who wears skin tight latex and acts like a robot, two neredowells whose millitary garb looks like a bunch toilet papers glued together, and the typical big boobed army commander we've been getting since the late 90's. That's it. Nothing else happens.
So why watch Heavy Object? Honestly I don't know. The only thing I got out of it was the comedy value of the show's production committee and its awkward name (Project HO). You're better off reading Sun Tzu while playing around with your old TMNT action figure playsets. I know it'll be ten times more entertaining than this mess. — Lord Dalek
Kowabon
Hey kids! Do ya like the movie Unfriended?!?
Do ya like the movie Paranormal Activitiy?!???
Do ya like the anime Flowers of Evil??????????!!?!!?!
Well I've got the perfect animu for you! Its called Kowabon!
Its only 2 1/2 minutes long!
I have nothing more to say about this! — Lord Dalek
Mobile Suit Gundam: Iron-Blooded Orphans
The last half decade has not been particularly kind to the Gundam franchise. In our country, its pretty much dead as a doornail no thanks to a licensing company that continues to make the same dumb mistakes they've been doing since thinking the original MSG would be a terrific follow-up to Gundam Wing in 2001. Meanwhile in Nippon, the last two television series were… to say the least… not well received. Ok, let me rephrase that, they were REALLY BADLY received. Gundam Age got the franchise banished to both TV Tokyo and late night. G-Reco was panned by just about everybody… including Tomino!…who directed it! But now this new wilderness period is coming to an end. Gundam's back on TBS Sunday night prime time! And Sunrise has figured out Americans might like to… you know… stream a Gundam show that doesn't have the words "Build Fighters" in the title and was made in the tens. What could possibly go wrong???
*Sees Mari Okada and Tatsuyuki Nagai from AnoHana being the staff of this show* …..yup, right back in the jungle again.
Iron-Blooded Orphans is kind of a bizarre pseudo-sequel to Gundam Wing. Gone are space colonies, instead are PMC companies on Mars run by Releena clones with impossibly permed hair. These PMC companies are staffed entirely by youths between the ages of 11 and 18 piloting robots while shirtless! Why shirtless? Because this show was made by and for fujoshi, that's why. You can tell by the fact that our two main characters have impressive pecks but no nipples…its kinda creepy…moving on. We have two heroes in this show, I don't know who they are, I kinda don't care, their fat friend Biscuit has more development, this show is literally that uninteresting. There is a Gundam in this show but nobody uses it making this only the second time I've seen a Gundam not being used in the first episode of a Gundam tv series (Turn A of course didn't even have a Gundam until episode 3!), then again I'm not sure Mari Okada is aware this is supposed to be a Gundam show. For all I know, this is actually some sort of sequel to Michiko and Hatchin because THEY'RE in the show for some reason (not kidding).
In all fairness though, this first installment of Iron-Blooded Orphans is not the worst pilot episode of a Gundam (hahaha Victory). The problem is it feels like the first episode of a Gundam show's THIRD cour. The plot seems halfway over, the characters are way underdeveloped, the action way too fast, and the whole experience comes of as disorienting rather than entertaining. Remember the final two minutes of the first episode of 00 where they introduced like 20 new characters reacting to what just happened? Well imagine an entire episode that was like those last two minutes. That's Iron-Blooded Orphans in a nutshell. — Lord Dalek
Second Opinion!
I can't tell if this was meant to be an attempt to be a real show or just a contractual obligation to pump out a Gundam series every few years, almost like ashcan copies. Oh boy, another mecha show about child soldiers caught in a war between Mars and Earth! Yes, that sounds a tad dismissive to what could potentially be a good show, but about everything in this show felt like standard Gundam tropes being passed around from father to son like some warped dynasty preventing the younger generation from thriving on their own. I remember when Bandai and Sunrise aired a remastered Seed and Seed Destiny when people grew tired of AGE, and while that was lazy, at least it was ingenuous. At least that was an upfront method to recycle previous elements instead of slapping a new name and animation on an old story and calling it a day.
I should probably pity Mari Okada. She must have been given so many notes and guidelines on how to make this a Gundam show that any original idea was shoved to the gutters. To her credit, at least I can follow the dialogue in contrast to the previous series. While they don't act like human beings yet, it's still a step up from "The world is not square!" I am waiting for the eventual "adults and their lies" melodrama though. But otherwise, it's an average mecha episode that neither surprises nor excites. It's there if you want to lie on your bed and focus on more important things like texting or cutting your toenails. — Bloody Marquis
One-Punch Man
The story of One-Punch Man is the stuff of mystery. Legend says that an anonymous individual named "One" created it as a web comic in 2009. That web comic was puerile, childish, and poorly drawn. But most importantly… it was fucking brilliant! A really bad fake shonen making fun of even worse REAL shonen was just what the doctor ordered in an age where nothing seems to have gotten past Dragon Ball and Hakusho. However an anime of One-Punch Man seems a bit counterintuitive. To me, the perfect adaption of One's One-Punch Man would be a cheap live action version shot in someone's garage with cardboard sets and homemade film burn sfx, preferably on 8mm and by Hideaki Anno. That's what One-Punch Man is, its not a webmanga, its storyboards for somebody's bad student film that they made in college.
But this isn't an adaptation of that manga. Nope, its the redraw by the Eyeshield 21 guy that runs in "legitmate" *cough* publication Shonen Jump. 'kay.
Well anyway, the plot is no different so it still feels like it was written by a two-year old (hey just like Axe Cop!). I will demonstrate! Once upon a time there was a man named Saitama. He was a salaryman. Then he wasn't a salaryman. Then he got beat up by a Giant Enemy Crab. Then he went off to train. Then he lost his hair. Then he beat everybody up with one punch. Then he got bored. THE END. See that's the joke. When your plotline is so utterly simplified, you get bored of it. Saitama is bored of being One-Punch Man. Bored of fighting an never ending assault of Toei reject mooks and Tsubaraya nobodies. Bored of saving the day multiple times per day and then not having money to buy milk at the corner store. Bored of the simple fact that all those old 80's manga lied to him just like they probably lied to One himself. Its actually a really smart deconstruction and I'm afraid it probably goes way over the head of the slobbering masses who are just here for the sakuga,
Oh yeah, the sakuga. Well, its pretty sakuga, I'd say. I've seen some sakuga and this sakuga is one sakuga of a sakuga. SAAAAAA-KUUUUUUU-GAAAAAAAAAAA! Sock it to me sakuga. The only thing more sakuga than this sakuga is umami! Wait what?
So that's about it, what else can I say? Oh yeah… 12 episodes. No Toonami. You lose. Bye Bye! — Lord Dalek
Second Opinion!
This was probably THE most anticipated anime of the fall season. For good reason, too. Even if you've never read the manga, you have to had come across gifs of the series at some point. Yusuke Murata's artwork is out of this world, and the action sequences in the manga are among the very best in the entire comics medium. Scratch that, they arethe best. What other comic frequently boasts multiple page sequences in it that, taken together, move like key frames in an animated film? The timing, the use of perspective, the acting of the characters, and the rendering of the environments are all pitch-perfect. The One-Punch Man manga arguably has better animation than most anime out there already.
So any anime adaptation for the series had it's work cut out for it and some. Skimp out on the production just a little bit, and people would just point to the manga as say it was better animated. In any other hands, I'd have been doubtful that anyone could pull it off right. But this is Madhouse we're talking about. If nothing else, their productions have become notable for consistently featuring some of the best animation in the industry. They had the talent, the time, the skills, and the money to do a One-Punch Man anime right. So I was optimistic. I've been excited. Barring Lupin, which premiered a whole month early, One-Punch Man was the very first anime I made sure to watch this season. So, did it live up to expectations?
…Yes. Yes it did.
The premiere episode of the anime did not just meet my expectations, it exceeded them. There is no anime premiere out there, past or present, that boasts more visceral and energetic action scenes as One-Punch Man does in it's first episode. That fight scene at the very end could already stand to be considered one of the very best fight scenes in any animated television series out there. If the series is already this impressive with small scenes like that one, I can't imagine how incredible everything coming up will turn out. From a visual and animation standpoint, this is the most high-quality show out this season, possibly in years, or arguably ever.
But the show doesn't just impress visually. I'd been wondering how the series would handle the early episodic chapters of the manga. They're so short and episodic that stretching them out into their own episodes, or even half an episode, wouldn't work without sacrificing some of the tension and momentum. The last thing a OPM anime needed was to be dragged out like your standard half-assed Toei or Pierrot production. But Madhouse found a way to combine all of these chapters and make them work as a coherent and cohesive narrative. The pacing and placing of the stories within the episode is perfect, and ends up reflecting a day in the life for our titular hero. The story is moved by learning about why Saitama wanted to be a hero, and his disillusionment with the career now that all his enemies go down with just one punch. Throughout the episode, he progressively reflects and ponders why he's still even a hero when the thrill is gone, pondering existential questions to himself about his ennui. By the climax of the episode, when he seems to regain the thrill and passion he once had, you feel just as elated as he does. And you also feel just as disappointed when the illusion is broken, and he's left empty once again.
Strong characters and themes are as essential a part of what makes OPM so good as the action sequences are. Saitama's disillusionment with his life and job, both before and after he becomes a hero, is deeply relatable. At the same time, his interest in being a hero just for the fun of it betrays the fact that he genuinely does care about helping people and doing the right thing, making him both down-to-earth and admirable all in one. He's an incredibly likable protagonist that still has personality and wit to him that makes him interesting, and that's why we want to root for him, and to see him find a fight that'll finally satisfy him. By weaving together all of the early chapters with a focus on establishing a rounded view of who Saitama is as a person and what makes him tick, the premiere adeptly introduces the "what makes a hero?" and "what does it mean to be strong?" thematic questions of the series in a subtle manner. And now, with Saitama's character and the world of OPM thoroughly established, the series can continue keep up the momentum by getting into the first story arc of the season, and continue building upon it's foundation from there.
If there's anything to fault the anime for, it's that the humor and individual frames of the series don't "pop" with quite the same impact in the manga. The anime's humor is as delightfully subdued as in the manga, letting moments speak for themselves with no cliche over-the-top overreactions to things. The manga just had slightly stronger timing and pacing when it came to the series' humor, however, so these moments in the anime seem less laugh-out-loud funny than they were in the original. As far as the individual frames criticism goes, the best example is to compare the shots where the first monster Saitama goes up against attacks him and then Saitama defeating it side-by-side with their manga counterparts. The manga's versions seem a lot more dynamic in their presentation than the anime does, and that has a lot to do with the differences in the composition and rendering of the scenes between the two. Still, these are minor things that won't detract from your experience, especially if you haven't read the manga. And personally, I always prefer adaptations that don't try to shot-for-shot replicate the manga, even if the execution isn't exactly as strong as it was in the original.
This has been a looooonnnnnggg "first impressions" write-up, but I'm pretty excited about this adaptation and dammit, you should be too. This is easily the best premiere of the season, and though there are a few other good shows in this fall crop, nothing else comes even close to it. Madhouse pulled out all the stops for the series' first episode, and if they can keep up this level of quality and momentum throughout the entire season, OPM will no doubt end up regarded as THE best action-anime that's ever been made, bar none. If you only have time to watch one anime this season, watch One-Punch Man. If you haven't watched an anime in years and want to get back into the medium, watch One-Punch Man. Even if you don't give a shit about anime at all, you should still watch One-Punch Man. If you like good anime, good animated series, or just good entertainment in general, you have absolutely no excuse not to watch One-Punch Man. — Cartoon X
Freedom Caucus Opinion!
A complete travesty. I'm not sure who or what in capitalist Japan allowed this Caucasian ubermensch fantasy be played out on television, but I will have no part in this! And extra phooey on them for having the decadent lobster be an enemy, like a meal served to the one-percent! Why, I never! — Jim Craquer
S&M Opinion!
I know this could sound a little dirty, but Saitama really, really reminds me of an uncut penis. I'm not just saying this to get a rise out of people (sorry, Jamal), but he definitely does look like an uncircumcised baby penis. I'm just putting that out there. Don't mind One Punch Man himself, really. You know I love a man who's a master with his hands. — Shaqueefah
Fucking Weeaboo Must Die! Opinion!
The proper title is Wanpanman, arigatougouzaimasuu. — Pascal the Otter
Opinión en El Tomate!
I'm too poor to afford Daisuki, so I couldn't watch this show. Looks cool though, I guess. — Gringou-san
New York Oberserver Opinion!
Saitama is a great character, but his name sounds awkward in English, which is not the show's first language, and in a mess called One Punch Man any English to be had makes no sense. But of course, nothing else in this turgid, incomprehensible disgrace makes any sense, either. At least Saitama is ravishing, which occasionally takes your mind off the Eastern gibberish that is going full tilt around her. — Rex Reed
Modern Gaming Journalism Opinion!
7/10. Too many punches — IGN
Some Random Hobo We Pulled off the Street Opinion!
Bitch, you've already made your damn mind up about whether to watch this show. You don't need another two hundred words telling you if this is good. Now stop reading and watch fucking One Punch Man. — Bloody Marquis
Osomatsu-San
I picked this anime on a whim, thinking it would just be some five-minute gag thing I could write a hundred words and quickly forget about. We all do that. We all find at least one of those shorts to fill our quota. That's habitual laziness, the same kind that stopped me from researching this show beforehand. I had no expectations whatsoever; so imagine my reaction when this turned out to be Gintama. Really, it's Gintama, with the same director and whatnot. It's just as parodying and trollish as its predecessor (or successor since it's a remake?). Even long after the episode's ended; I'm at a loss for words as to what to say.
So let's cut the bullshit and say that I liked it. Sure, there were too many fourth-wall breaking jokes that they became predictable, but I liked it. It's an absurdist comedy that treats its competitors in the anime season with either disdain or whimsy, where even the cameos have much thought to them. I have to admit I legitimately believed the shoujo pandering skit was something they were going to keep for the rest of the show. I had no idea what was going to happen next, and the show twisted out that confusion for all it was worth. And to think, I first thought this show's only joke would be that the six brothers all looked the same.
I'm sure somebody will look at all the references and think, "Ugh, this anime is only skin-deep references to recent anime and no jokes. Fuck this shit!" Well, fuck you too. This isn't Seitokai no Ichizon. This ain't part of Hayate the Combat Butler's ilk. It gets to eat at the cool kid's table with Gintama, Watamote, and Nichibros. I'm sure this is probably a delirious spell and I'll likely hate the show from the second episode on. But for now, I appreciate these riffs. Hope to see what else this anime will mock. — Bloody Marquis
Peeping Life TV: Season 1??
As far as I can tell, this show consists entirely of creepy bargain basement marionette versions of classic anime characters bickering about stupid shit ad nauseam. As the disturbing 3D renders of Japan's childhood favorites lifelessly meander about flapping their lips, telephone conversations between their bored voice actors are overlaid on top of the footage, instilling a sense of bewilderment and dread in the audience.
Clearly the writer (let us pray it's not plural) was shooting for a combination of nostalgia and Tarantino-esque banter with this episode's script, but the dialogue more closely resembles something culled from Nisio Isin's long lost high school writing journal. Between drunk Astro Boy struggling with puberty while trying to get hip with the other kids and Black Jack arguing with another doctor about flu symptoms, you will probably fall asleep long before the ending credits roll. And it's not like the production staff seem to think too highly of their work here, either; the question marks following "Season 1" are basically the show's own confirmation that there will never be a second series (EDITOR'S NOTE: This is actually like the sixth season or something. Yes I am as surprised as you are. — LD).
But hey, at least the opening song is pretty cool, right? — Foggle
Utawarerumono: Itsuaware no Kamen
Under Water Ray Romano is a visual novel that came out way back in the early 2000's, and got an anime in the mid-00's. You may remember it as "that anime that had the guy with the mask and a bunch of people with animal ears." Well, now it's getting a new release, and that means a new anime adaptation. Since I have the most experience with this franchise (read: I played as Karura in Aquapazza, raged at the final boss until I beat it, and never touched the game again) I've taken it upon myself to review the first episode of The False Faces.
Our story begins with a nameless man in a hospital gown waking up in a snowfield. He wanders around aimlessly until he is attacked by wild monsters, and is subseqently saved by a girl named Kuon. Seeing as how he has nowhere else to go, he starts traveling with Kuon, whom subsequently names him "Haku" and acts as his guardian.
As a premiere, this first episode was ok. The music is good and soothing to listen to, the characters are likable enough, and the animation provided by White Fox is great. The problem here lies within the pacing, the episodes 24-minute runtime is dedicated to establishing Haku's character (as well as Kuon's, to a lesser extent), with some world-building thrown in. The gist of it is that Haku is physically weak and bad at mundane labor, but excels in tasks that make him use his brain. Now, this development is appreciated and everything, but all of this could've been explained in half the runtime, and instead the episode is padded out with tired gags (thouh I do have to give kudos for having the girl do the peeping this time). That being said, this world of characters with animal ears does seem interesting, and it at least entertained me enough to watch the next episode. False Faces does not seem to require you to have watched the previous anime to understand what's going on, which is just as well since that was nearly a decade ago (though I'd imagine previous knowledge would help). I also recognized none of the characters that showd up this episode, making things even easier for newcomers. — Crimson Rynnec
Young Black Jack
Black Jack is most certainly the God of Manga's most well-known and popular work after Astro Boy, arguably his best, and most certainly his most accessible. For those of you who aren't up on your Tezuka, Black Jack is mostly episodic medical mystery drama thriller horror comedy…among other things. Very few of Tezuka's series moves in and out of tones and genres as much as Black Jack does throughout it's entire run, and that delightful balance of cartoonish goofiness and serious morality tales is part of what makes it so appealing and timeless. But the series' biggest asset lies squarely on the strength of it's title character, Black Jack himself. In my book, he's the best character Tezuka ever conceived; a complex, enigmatic character who we never know what to expect from, but can be assured that somehow, someway, he'll always manage to get the job done, and do the right thing.
Black Jack, like most great iconic characters, is simultaneously believable and unbelievable; you can picture him in just about any situation, but you can also imagine him being able to do just about anything. And that's what makes him so awesome, and why people keep coming back to the character so frequently decades after the original manga concluded. Do you think Young Black Jack is the only spin-off of Black Jack out there? Ha! There are dozens, DOZENS, of them out there. However, I'll admit that Young Black Jack is the first of them I've seen. It seemed an obvious watch for me when it was announced. I love Tezuka, and I love Black Jack, so I had to give any spin-off featuring the character at least a try. But probably the first give-away that this series wasn't going to resemble the original very much was Black Jack's character design. Apparently Akita Shoten and Tezuka Productions felt that Black Jack needed a more modern look for 2015, so they went ahead and made him a super sexy bishonen and added in some helping heaps of man-service for the ladies (Black Jack was always popular with the ladies). But the character re-design didn't deter me. That's just an cosmetic thing. Surely, Black Jack himself, and his stories, would be reminiscent of the original manga. And so I remained excited to see one of my favorite characters in a brand-spanking new anime.
So…who the hell is this guy and what the fuck did he do with Black Jack?
The man who appears in this anime, who has the gall to call himself Kuroo Hazama, is not Black Jack. And no, he's not "Kuroo Hazama" either. Sure, he looks like him, he sounds like what he might sound like, but that's all the resemblance there is between them. Personality-wise, the two are night and day, and in a way incongruous with the characterization established in the original manga. Young Black Jack is a quiet, stoic introvert who barely talks and never talks back, is friendly to people, trembles after he completes dangerous surgeries, and goes out of his way to help people in need. Black Jack is a over-confident, grumpy and loud, ill-tempered wise-ass who doesn't give a shit about niceties and what people think about him and will hunt you down to the ends of the earth if you've done him wrong. And while he might be a medical genius, he isn't nearly as godly omnipotent as Young Black Jack seems to be what with all his visions bullshit.
The very plot of this episode exposes everything wrong with this characterization of Black Jack, since the events depicted here would never go down the way they do if it had happened in the original manga. For one thing, Black Jack goes out of his way to offer help to someone in need. That is not how Black Jack operates. Yes, Black Jack helps people, but only those who approach him directly, and provide him with the proper compensation he demands of them. And if they refuse to pay up, he makes sure he gets what he owes one way or another, and is absolutely ruthless in his methods to do so. This guy? He approaches the family of the boy to offer them his help without any provocation. Sure, you might argue that it's because the boy reminds him of his own situation, but Black Jack would at most only accept a job because of that, he wouldn't actively pursue one, much less make it a freebie if he fails kind of deal.
But perhaps the most egregious mis-characterization happens at the very end. When the father of the boy refuses to pay what he promised Black Jack after the operation because of technical bullshit, he doesn't explode in anger and swear to make the guy's life hell like, you know, Black Jack would do. No, he just grimaces and lets the guy walk all over him, and then he gives away all the money he did earn to his drug-addict friend. That's right, Black Jack gives away his money. To top it all off, he's not even bothered by the fact he was gypped, but is instead angry because the guy sold short the value of his own son's life. Not that Black Jack wouldn't get bothered about that too, but he'd care way more about getting his fucking money, and rather than just think it to himself like a wuss, he would say something like that to the guy's face in anger and to guilt-trip him.
Black Jack is a dynamic character with strengths and flaws and a strong personality that provokes a reaction from everyone he meets to some extreme. Young Black Jack is just some tortured nice-guy, gary-stu bishonen archetype, and significantly less interesting and entertaining as a result. The lack of dynamism is a weakness of the show in general. As I said before, the original Black Jack balanced various extremes of humor and drama. But Young Black Jack is markedly serious in tone, with no real humor or wackiness to speak of. It really feels like the show wants to have it's cake and eat it too, what with all the Tezuka-style designs for minor characters and the promise of more Star System characters will show up in the near future  if the ending theme is any indication (I can't tell if that long-haired swordsman in the opening is supposed to be Hyakkimaru or Dr. Kiriko, though). But the Tezuka-style character designs don't mix with the more modern designs of Black Jack and others in the show, and that reflects much about the problems with it. This is not a bad show in of itself. But it's not the wacky and dark, horrifying and hilarious series that people love. This interpretation of Kuroo Hazama is not the irritable, deceptively benevolent grump that people love. It's not Black Jack.
It might be too early to dismiss the series entirely. It's well made from a production standpoint, and the promise of various Star System characters making prominent appearances in future episodes should appeal to any hardcore Tezuka fan. Since this is the story of how Hazama becomes Black Jack, maybe his character will evolve into it's more recognizable form as the series continues. If you're not a fan of Tezuka, the show is just a serviceable medical drama, and I'd recommend you just read the original manga instead if you're interested in the character. If you are a fan of Tezuka and Black Jack, then be warned that this is not either. It's it's own thing with characters that bear similarities to those in the God of Manga's various series, positing an interpretation of the character and his history that differs greatly from it's inspiration. It's hardly a must-watch, but if you love Black Jack as much as I do and can appreciate the series a little more even just superficially because of that, chances are you'll stick with it for better or worse. — Cartoon X
Second Opinion!
So in the second anime starring Black Jack this season, I'm struck by how aged the storytelling feels. This definitely watches like an anime made in the 70s, inside and out, and for better and for worse. There are moments that feel really conservative for what was marketed as a modern re-imagining, like how a good deal of the episode spends time to demonize union strikers for wanting to be paid instead of helping patients. They care more about money than doing their jobs, while the only person besides Black Jack with a pro-active approach to saving lives is an intern. For a show that desperately attempts to portray Black Jack as a savior—crown of thorns and all—this dismissal of class struggles shot that in the foot. I could maybe understand this if it was a direct adaptation of Tezuka's original manga, but this was instead based off a 2011 prequel, which should have a more enlightened view on the relationship between a hospital and its employees.
And that change in perspective shouldn't sit well for Tezuka aficionados. While never outright radical, he always wrote with a progressive view in mind. This, on the other hand, felt socially backwards when compared to the original. Instead of being a troubled doctor who breaks free from the shackles of hospital politics, the Black Jack here is an appointed messiah who can do no wrong while everyone else squanders their talents. This series adores Black Jack, with shirtless scenes and last-minute medical successes to make him not a person but an idol. But this is a show that doesn't have Pinoko or the more bizarre plotlines of the original, so these cuts to make a more grounded universe combined with Black Jack's thinner personality make for a unsavory concoction. — Bloody Marquis