2016
03.29
Episode 2: Wind and Fire – A Dangerous Seduction!!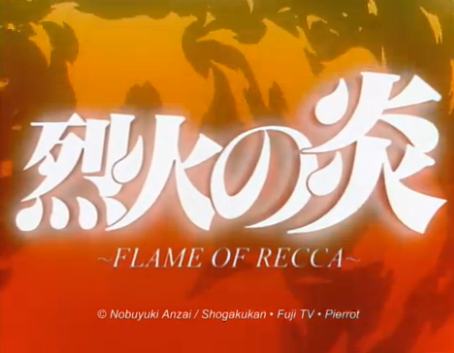 Chapters adapted: Volume 1, Chapters 3, 4, 5, 6, and 7
Before we begin, you might notice Domon's face is different in the early chapters of the manga to the anime. This isn't really a change to note since the anime version is how Domon eventually looks in the manga. Anzai solidified his character design pretty quickly after these early chapters. The anime did not change anything there unlike how they changed Fuko's hair and eye color here. Also, there are at least forty times more pantie shots in this episode to the single blink-and-you-miss-it one in the manga. Unlike the other changes I'll be covering, that one is pretty easy to understand why it was made even if it's totally unnecessary overall.
The second episode begins with something we never saw in the first episode: the main characters' school life. Recca meets Yanagi in the morning and the whole school gets to hear him babbling about being Yanagi's personal ninja. It is here we learn that not only does Recca show little fear, he shows little pride, as well. How? Well he decides to walk on people's heads. Why, I don't really know. It wasn't in the manga, but it sure is comical to watch happen.
His embarrassing behavior causes Yanagi to run off and let the rumors really begin to spread around the students at the school. Though unlike in the manga we don't actually get to see any of these rumors. We don't even really see any other students outside of this scene: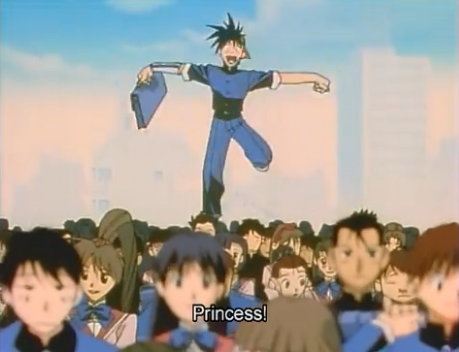 At lunch Recca is confronted by Domon outside to confirm the rumor that Recca did become her personal ninja. This is a big deal to most people. You see, Recca made a pronouncement that anyone who could beat him would be his master and he would become their personal master in return. So everyone thinks sweet and innocent Yanagi beat Recca in a fight. Domon is less than impressed with this revelation, but there's something worse to worry about.
It is here that Domon reveals someone named Fuko will not be very happy about this news. This causes Recca to freak out and try to hide Yanagi, which leads them up to the roof. Unfortunately, that is the one place they shouldn't have run.
And this is the only part of chapter 3 adapted into the anime. The rest of the chapter was entirely excised. Chapter 3 deals almost entirely with character development between Recca and Yanagi, as well as a bit for Domon. It takes place during the entire school day which slowly builds up Fuko before we meet her on the roof on the last page. Unfortunately some of the cut material includes Recca explaining that he is not Yanagi's ninja because of romantic interest as he states he is more interested in duty than girls, which is something I think the anime version already altered by omission anyway.
There is also a scene where Yanagi reveals that she wants to be children's book author and shows the fruits of her labor . . . to a not so great reaction. The whole chapter is actually quite well done and very welcome to flesh out the characters so early in the series. I could explain more, but then I would be posting the whole chapter.
It's not an action packed chapter, at all, but a very pleasant one. Material like this gives Flame of Recca a lot of its character early on. The anime cutting the entire chapter from the story except for the scene where Domon tells Recca that Fuko is looking for him which sends the pair up to the roof is a loss no matter how you slice it.
But we have a story to get back to.
Needless to say, the mysterious Fuko is a bit nutty. She's a tough girl who likes to throw metal picks, and doesn't even pause to hit Yanagi directly after first meeting her. She's like Recca without any common sense. But it is easy to see so early on why she becomes one of the most popular characters in the series.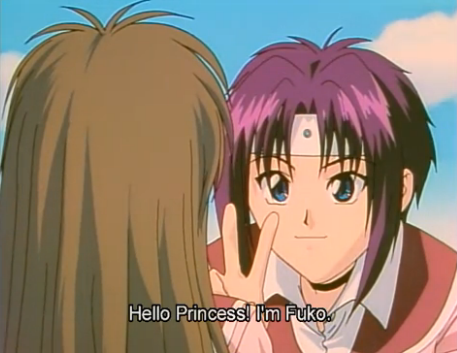 Recca and Yanagi soon fall into a battle of projectiles with the crazy girl. Fuko has apparently battled him before because she easily stops him from throwing explosives and knows his general trickiness. They have apparently been rivals since they were kids, but Recca just outdid her every time she tried to top him. This makes the reveal that Yanagi got Recca's services quite hard to take since she had worked so hard to beat him.
And here Recca gets launched across the roof with a kick. Because he's just that weak, apparently. In the manga he simply doubles over– in the anme he is launched across the roof. It looks like she has him cornered. But it turns out it was a trap and Fuko gets caught in a net. This is explained a bit more in the manga how he set it up.
But there's more to this battle than we originally thought. We get another appearance by a shadowy figure as the battle ends.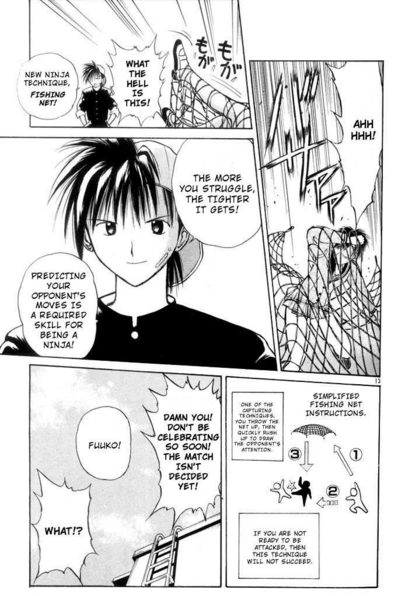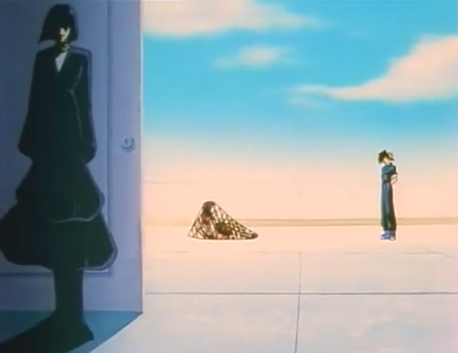 That's right, Kagehoshi is back!
The crazed woman who wants to see Recca's flame for some reason returns. She watches the battle, but doesn't go after him or Yanagi. This time she approaches Fuko instead, and offers her a gift. Given that she's been pestering Recca for some inexplicable reason, and outright trying to murder him in the anime, it's obvious that this isn't a good thing for our hero.
It's some sort of an artifact, a bracelet the crazed woman calls "Fujin" and it can fire out bursts of wind. She accepts the trinket when she learns she can use it to finally beat Recca, though she doesn't seem all too concerned at how it literally split a tree in two in the anime. In the manga she initially refuses, not wanting to kill Recca, but her obsession with beating him takes a hold of her and accepts it.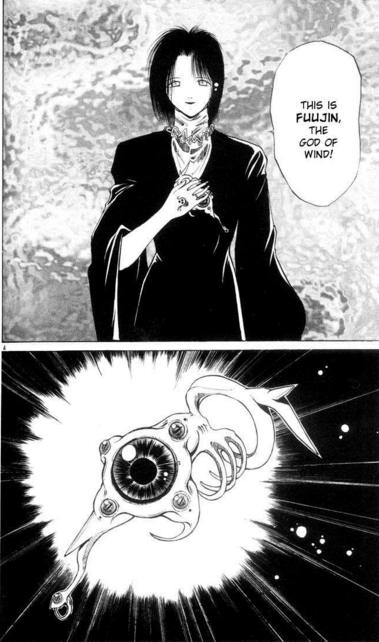 This next scene is a pretty major diversion from the manga, but to go too far into it would be pure spoiler territory for future installments so I'll just mark it here. Next is a filler scene that was added like the one from episode 1 in that same office of a man named Koran who now hears rumors of a girl who can heal. He tells his men to search for the girl.
The reason this was not in the manga was because Koran did not learn of Yanagi until much later. This changes an upcoming encounter by a fair amount.
But that is for later.
Back to the story, Recca awakens later that night and receives a call from Fuko who sounds like she has taken one too many happy pills. Recca hears Kagehoshi's voice and rushes to the scene to see what is up. Yanagi spots him and follows. A confrontation is brewing!
The big difference in this from the manga is that in the original, Fuko doesn't just get Fujin and go crazy. She takes the artifact and disappears for three days. This causes Domon and Recca quite a bit of worry about her, even causing Recca to visit her house and learn she's been coming home late. Her parents even think she's at school when she's not. There's some good character fleshing her that the anime completely ditches to get straight to the fight.
In the manga, Recca receives a call that night from Fuko meaning that he has reason to go straight to the school without needing a reason. Kagehoshi still hasn't reappeared yet. Also, Yanagi goes to the school because she calls Recca, who isn't home, and hears from his father that he went to the school. It feels like less of a coincidence of her meeting him at the school this way.
This episode's biggest weakness is everything it cuts. Literally everything to do with the fight is all that is kept.
Recca confronts Fuko and is quite easily blown away in a single attack. Kagehoshi shows up to gloat and explains that the reason Fuko is so messed up is because the trinket she gave her is like a drug to those not used to it and makes them battle crazy. Only those with strong mental control can bear it. Considering Fuko was already a bit battle crazy, this puts her right out there as certifiable.
Yanagi arrives in time to see Recca get the crap kicked out of him (again) and  runs off to find help. Kagehoshi, of course, follows her and knocks her out viciously leaving her unconscious in an alley. Anime Kagehoshi really hates anime Yanagi. In the manga she just casts some sort of spell to put her to sleep, and Yanagi tries to bite her tongue to keep conscious. It feels a bit more in character for when an important reveal comes later.
In both versions she is then found by a friendly stranger who helps her up. It's fairly obvious who this is, but since we're not supposed to know, I'll wait for the reveal shortly to mention it.
Meanwhile, Recca continues being beaten by Fuko. Again he is thrown around and completely out of his element, not being effective at all. The wind is blowing away all his attacks and he really doesn't want to hurt her.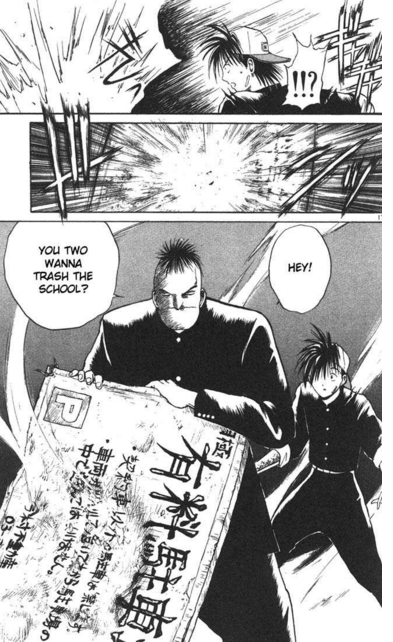 Domon shows up to save him from being torn to shreds. He tells Recca that Yanagi is okay and left her lying against a nearby tree. As we figured before, he was the one who found her and brought her back. He initially appears confused until he learns that Fuko is being controlled and jumps in to help Recca in the fight. He turns out to be just what Recca needs to turn the tide.
Unlike Recca, Domon can take the hits, as he is quite the tank, and manages to shake up Fuko despite her trying to tear him apart with her wind. He tries to convince her to stop this madness and he almost manages to get through.
Kagehoshi enhances the trance and Fuko not only goes back to insane, she's at over 110% crazy. She taunts Recca for his failure to save Fuko and the fact that both Domon and Yanagi are laid out and half-dead.
One change from the manga is that the fight is more vicious in the original version. The hits are more vicious, Fuko even uses her metal picks instead of only her wind. Despite this, Recca and Domon are more resilient here than in the anime. Domon does not get laid out here and Recca isn't thrown around like a rag-doll.
The episode reaches its climax as Recca vows to stop Kagehoshi for playing with all of their lives like this and he charges into battle against Fuko to put a stop to her.
He unleashes his flame in battle for the first time (second in the anime) which might be their only hope of saving Fuko. In the manga he apologizes to Yanagi for having to break their promise in order to save a friend's life, which is more than understandable given the situation. Then he surprises everyone (except Kagehoshi) by showing them the flame of Recca.
And that is where the episode ends.
This episode condensed a lot of material into one episode, but I still think it is at fault because it doesn't actually end the conflict they were condensing to get to. It is one thing to want to get to the meat of a conflict faster, but it's another to trim excessively and STILL run over time. Everything cut from this episode should have been left in since they already made it into a two-parter anyway. They crammed five manga chapters into one episode and still couldn't resolve the overall conflict. So we get a rushed episode that misses all the finer points of the manga instead of adapting properly to get to the same point (like adapting chapters 3, 4, and 5, to episode 2, and chapters 6, 7, and 8, to episode 3) instead. The question after all that is then, what was the point of doing it this way?
It would have been a smarter idea to leave in the character interactions, development, and humor from the manga, and have it build up to the confrontation with Fuko at episodes end and saving the fight for the next episode. That would have been good pacing for condensing. As it currently is, the episode cuts a lot of good stuff out to get straight to a fight and misses out on everything else in the process. I know this is an adaptation of a battle manga, but cutting out character interactions and build up does not improve a story and it is why the genre gets such a bum deal.
It also continues the streak of making the characters get beaten to the ground and moaning in pain without dealing any damage to the enemy themselves. It loses a lot of the hotblooded shonen appeal when the characters not only can't do any damage to the enemies, but can't even take a punch. Like in episode 1, it is an artificial way to create more drama.
Trivia time: Did you know that every hit someone took in this episode was changed to them being knocked down or getting knocked back twenty feet? Even Yanagi getting slapped by Fuko led to her falling over in the anime. This was what I meant when I said the anime staff tries to ratchet up the drama where the manga didn't have to.
Suffice to say, this episode comparison goes to the manga once more. Condensing is one thing, but it wasn't even done well in this case. As it is, this episode guts out the charm of the manga and leaves us with a battle that doesn't even get finished in this incredibly rushed episode.
Unlike episode 1, I'm not as willing to give this episode a pass. It's simply a lesser version than the original chapters in every aspect. Had I seen this back when it came out I would have been utterly disappointed.
So, that's the end of this comparison. There just isn't much to talk this time about because the anime version cut about everything except the bare plot thread and the fight. But don't worry, there will be more to talk about next time.
Stay tuned next week to see if Recca and Domon can save Fuko from herself and from Kagehoshi or if they'll just get their heads kicked in some more without landing any decent hits and then lucking out at the end by winning with a single hit.
The anime sure loves doing that.