2012
02.13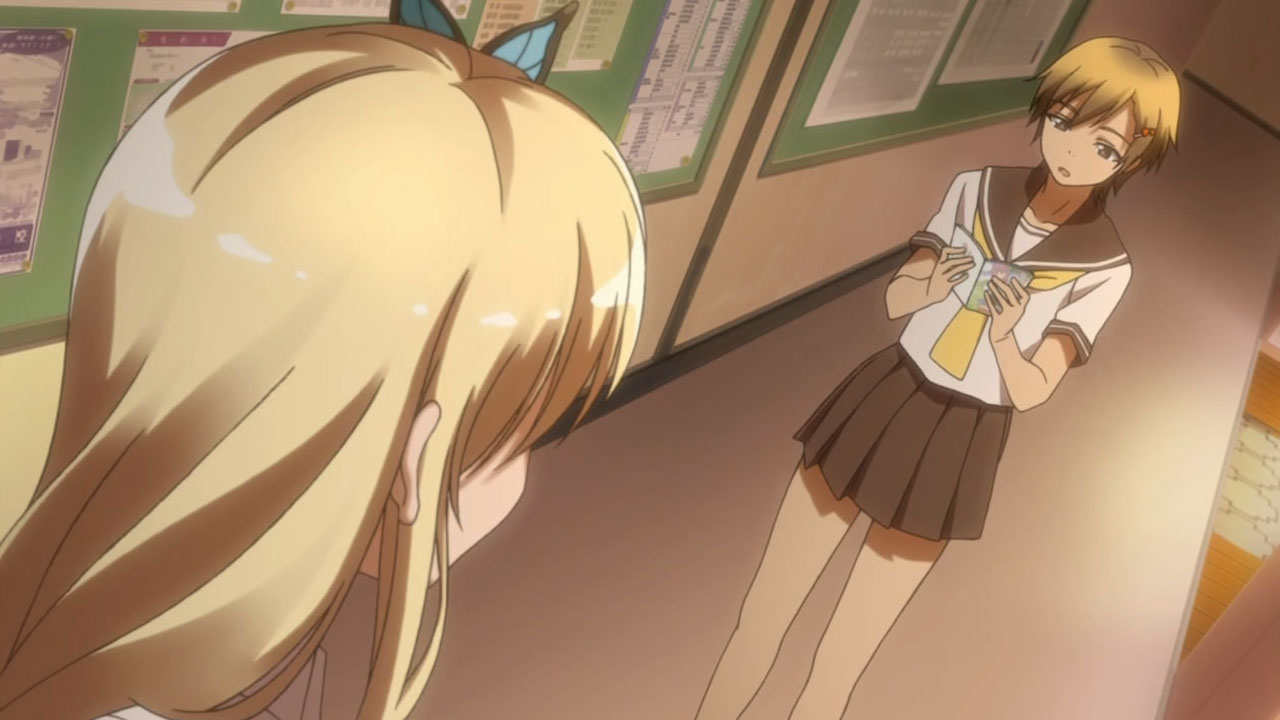 Kodaka walks in to find Sena waiting on the table like a stalker in heat. She then talks about how calling her by her last name would conflict with classist issues or some shit. But then, Yozora pops in and starts the club by suggesting that the y find friends by playing video games. Yeah, gaming is obviously the prevailing key to an active social life.
Yozora pulls out a non-copyright-infringed PSP and uses the almighty might of the MMORPG to show how friends can be made. So you want neckbeards as friends? Fine by me.
Sena and Yozora have another feud over who can play games the best, and it turns out that the former chugs in more gaming hours than she does with high school dicks. Sena defends herself by claiming that even RPGs should be made with a true effort. Yeah, maybe that's why you don't have friends, dear.
They start up with outfits worse than most Ohayocon cosplayers, and hunt in the great forest killing non-Venomoths and not-Chocobos. Then, Sena kills Yozora because she's a cunt. It goes the other way around for the same supercilious reasons. They soon discover a dragon, and sacrifice Sena in order to bomb it. You'd think the game would have turned off friendly fire or something, but no.
The two girls finally decide to shut up and duel while Kodaka goes out playing Minecraft instead. After quitting the games and not realizing that they should stop being bitches to each other, Yozora and Sena stop for the day while Kodaka laments having a pink PSP.
Instead of PSPs, Sena decides to bring over a non-copyright-infringed PS3 instead to spread the fun and generic cunt-wiggling. They decide to play a dating sim, making Kodaka and the viewers why before Sena gives another bitch-tainted reason for it. Titled "Sparkling School Life 7", they start arguing over using the name of the fucking character. You know, I'd actually like the rivalry between Sena and Yozora if there was an actual grounded reason for it other than extremely petty squabbling. But no, they can't be helped.
After that, they start making random assumptions about how visual novel girls are all bitches, not understanding their own message of trying to make friends when they can't even properly communicate to video game characters.
Watching this bit, I can tell how narrow this show's demographic is. You know this was written for otaku, with absolutely no one else even understanding what the hell's going on.
Of course, Sena suddenly becomes a lesbian and shakes her rump like a baby needing a shit change. After that, her mindset soon devolves into literally seeing the VN as real. Requiring an enclosed instruction manual to comprehend basic human interactions, Sena has to try her hardest in order to get VN girl to like her. But as always, it ends in failure and baby tears.
The day after, Sena gives Kodaka the VN while getting more warm feelings over virtual 2-d women. I suppose this is intended to be funny. However, it just makes the characters seem more deranged than hilarious.
Oh, and someone's stalking them. Don't know who. Don't care why.
This entire episode makes me wonder, in an industry that is desperately struggling to find new buyers, why would FUNImation license such a niche show? Is it just because it's another mindless fanservice romp, because you know what happened the last time the anime market overstuffed itself with the lot. Is this the medium's future? To collapse and gorge itself on the same shit in an endless cycle? And don't tell me that this is the best they could license. You could acquire shows like AnoHana, Wandering Son, and Bunny Drop, marketing them to wider audiences as alternative dramas. You could dub and release shows like Steins;Gate (which while licensed by FUNI, hasn't even been released through streams) as a gateway for sci-fi fans. You even could've gotten Blue Exorcist in order to tempt shonen fanboys. But no, FUNI, you chose this show to stream to the mass public. And if the market shares go down in the next quarter, don't blame the fans for losing interest. Blame yourself for releasing inferior product.