2017
07.09
18if
This is perhaps the single most bizarre show I have yet done in the five years since I've started writing articles for the seasonal clusterfuck. Watching I had absolutely no idea what was going on, who any of the characters were, or where the hell it was supposed to be going And yet… I simply couldn't take my eyes off of it. That is how utterly absurd 18if really is. It simply dares you to look away and not in the car accident in progress style of Hand Shakers or something of that ilk. No this is just…what?
Sooo this is about an asshole who gets stuck in a dream world dominated by witches who come out of his cellphone. Said witches are really just tsunderes who wish to punish him for his lack of sincerity. Killing the witch kicks them out of the dream world and our jerkface keeps repeating the process until…I don't know…SOMETHING! Also there's a talking cat played by Koyasu that the Tsundere Witch of the Week ™ turns into a cake and eats.
If I were to be offered a guess, I would think this was Gonzo's attempt at a Modoka/Date-A-Live hybrid with a little Persona thrown in for zest. That makes it far from the most original show around and yet it kinda feels a bit refreshing. It seems to me that this is largely due to the OTT presentation and not its rather limpid production values (of course it looks like crap, its Gonzo!) I cannot say for the life of me if this was a good show (leaning towards "It was ok") but I am vaguely intrigued enough to come back.
Also Theron hates it. It must be good! – Lord Dalek
Akumajou Dorakyura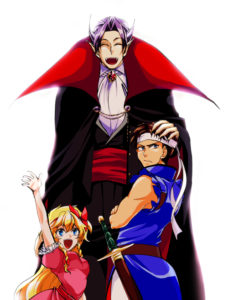 Wow this is the moe hit of the season! A gender flipped tsundere named Vorado Tepeshu isn't too happy when his wife gets burned at the stake! A bara named Rarufu Shi-Berumondo is hired to make friends with him because Vorado's temper tantrums are turning the sky red! However a yandere named Cipher Farnandez wants to date Rarufu too! And what's this? Vorardo has a hot son?!? OOOOOH LOVE TRIANGLE!!!
This is apparently an adaption of an old Family Computer vidcon from the 1940s or something. I've never heard of it! And who the heck is Ko-nami? I though they only made pachinko! Why can't they make an animu of my favorite pachinko game Metaru Geah? Everybody knows that game didn't get good until they added ZOOOMMMBIES! Hur hur hur!
I don't know why its in English though. Who are those people?!? Why is that guy played by a dwarf? Definitely 10/10 show will watch again! Now why do none of the buttons on my tv work?!? DO YOU HAVE TO EXPLOIT A FLAW IN THE SYSTEM!?!? — DarkSydePhivator
But seriously folks…
Castlevania is FUCKING AWESOME. Its written by Warren Ellis and stars Richard Armitage as the coolest Tevor Belmont ever. In fact the whole cast is awesome. Kinda makes me sad this is just animated as it would be the best video game movie of all time. Only drawback is that its only four episodes long and doesn't even get very far into the plot of Castlevania III which this is an adaption of. But hey! Netflix liked what they saw and have already greenlit a second season. Best anime of the season and I don't care if it was actually made in Texas. — Lord Dalek
Convenience Store Boyfriends
Pry open the doors, and I enter my
Oral Sanctuary.
O, Convenience Store.
Full of chips, drinks, and wings.
Lukewarm pizza, stale nachos.
Makes my arteries sing.
And my blood into gazpacho.
Cashier looks at me like a dog looks at its master.
I wish to pet him, but my hands are only for buffalo, not for dogs.
I demand this wage slave give me wings.
Wings by the dozen. Wings by the barrel.
I am beyond a mortal man. I am a god of wings.
I stare as he places each wing into a box.
Each treasure into a chest.
But then he gives me one extra wing.
One extra wing.
One extra wing.
Insert verse that vaguely involves politics.
One extra wing.
My feelings change. He is no longer a dog.
He is now my lust.
I move to give him a kiss.
But his soft lips reply to me,
"What the fuck are you doing, you freak?"
He smacks me, pushes security alarm on the back.
My hands grab the box. My mind steals the wings.
But he has stolen my heart.
His anger. Only a delay in my path. Only a delay.
Soon, cashier will be as easy to chew as a wing.
When I have him as my wing,
I can finally fly
Flexing my wings, buff and low.
– Nozomi
Fate/Apocrypha
As I write this I'm already hard at work on another one of my semi-monthly editorials about what grinds my gears about the anime biz at home and abroad for Geek Soul Brother. This month's subject is about what I perceive to be how various streaming companies are, in their effort to clamp down on various fansub groups and 5th market streaming sites, basically shooting themselves in the foot through egomania and baffling decisions as to when and where you'll be able to watch shows legally. Case in point: Fate/Apocrypha, the latest installment in Kinoko Nasu's ever popular waifu-bait franchise which will be hitting our shores… IN NOVEMBER from Netflix. And what has this managed to accomplish? Why dragging an officially dead subgroup out of the crypt in the shape of UTW of course! Great job Netflix, you've brought us back to the good ol days of 2004. No wonder Saiyuki got a new season!
Well might as well get it out of the way I guess. In an alternate universe where Indiana Jones is apparently canon, the Holy Grail War ended when the Nazis stole the bloody thing in the Third War back in the 40s. That hasn't stopped various factions to stage their own sad pathetic knockoff Grail Wars for…honestly I'm not sure. However, a nefarious organization called Yggdillennia led by the now-immortal nazi responsible for the Grail's initial disappearance has arisen and challenged the forces of good to a seven on seven Grail War for control of the genuine article. To make matters worse, said Nazi has surrounded himself with an army of off-brand Trade Federation battle droids and poor schlubs stuck in bacta tubes for easy mana. Ultimately though its just an excuse to introduce our new Saber, now commanded by some burly dude who seems to have had a run in with Wolverine or something. Hint hint, she kinda killed her mom.
If that description seems sketchy at best its because literally nothing happened in this episode. And by that, I mean nothing but infodumps. We're introduced to several characters we know next to nothing about except for one dude who I think is Waver and a priest who bares a very strong resemblance to Shirou Emiya…albeit with Kotomine's hair cut. Hmmmm. Otherwise its basically the first episode of Fate/Zero again albeit with one major drawback…its half as long. While Zero had a whole hour to develop the various factions descending on Fuyuki City, this show throws us in head first requiring either a viewing of any of the previous tv series (well except Prisma Ilya) or suffering through the actual game. Its disorienting to say the least.
Production wise, Apocrypha is a big, and I mean BIG, drop from Unlimited Blade Works. With Ufotable still making their Heaven's Feel movies, Type-Moon had to farm this one off to A-1 and the results are not pretty. Remember that dynamic feature film quality animation? Well its gone now. In its place is the usual stiff low frame rate crap we've come to expect from the perpetually overrated A-1. And while never quite reaching the abyss that was Deen's work on the franchise you'd be compelled not to think this wasn't some cheap Hong Kong knockoff of Fate, maybe made by Tencent.
When it comes down to it though, the main problem with Fate/Apocrypha is right there in its title. Its simply aprocryphal. In no way are you getting a decent Fate experience out of this episode. Maybe that's why it won't be available legally until November. Aniplex didn't want you to complain about having to wait 7 days for another half hour of nothing. Sounds like a plan. – Lord Dalek
Dive!!
Dive!! is this season's noitaminA show. Remember noitaminA? That awful fake-artsy josei block that we all kinda forgot about after Ranpo Kitan? Well now they've dumped the fake-artsy part and gone full on fujoshit. And what better way to do it than ripping off the most popular piece of fujoshit around, Free! I mean its so timely, everybody loves Fre-
…I'm sorry, I've just been informed Free! hasn't been popular in over five years and we've all moved on from gay swimmers to gay figure skaters. Smooth Fuji TV, real smooth.
Well anyway… here's a show about gay platform divers! Local Shota Tomoki wants to get it on with his sempai Youichi but he's got a problem. The diving club both are members of has hit rock bottom in both finance and morale. But Tomoki's too busy moping over his memories of when Youichi's pecks gave him the courage to jump into their amazingly badly done CGI pool. There's also some girl who's trying to cock block that yaoi but like any of that matters.
This show is bad. Very, very bad. The animation (by Zero-G, whoever the hell they are) is stiff and lifeless, proving KyoAni really are the masters of hot pecks hitting cool water in anime. But then again KyoAni actually animated their water. The entire platform is CGI and terrible CGI at that. It reminded me of that Alice & Zouroku show from last year and you all remember how greeaaaaaaaat the CGI was in that show. But the main problem with this episode is its pretty painfully dull. Nothing really happens until the last 30 seconds and by then I have completely checked out from Tomoki staring at Youichi with his drippy blue eyes. And that reminds me of another major problem with this show, the character designs. They're butt ugly! There hasn't been a cast of disfigured creeps this bad since Ping Pong I swear.
Come back Pimp-Kun, all is forgiven! – Lord Dalek
SAIYUKI RELOAD BLAST
Well well well, look who came crawling back. You know honestly, I cannot believe I'm actually writing up a season of fucking Saiyuki. You know how long ago the last one was? 2003! I WAS A FRESHMAN IN COLLEGE! Marquis was probably learning arithmetic! Lum was probably still sucking off his mother's tit! FIFTEEN FUCKING YEARS! Hell both companies that released this shit went out of business and one of them almost killed the industry altogether! That's how far apart we are from the awful anime of that era. Therefore the only way to crown this awful era is to make brand spankin new Saiyuki Reload!
So in case you've banished this chapter of your Anime Club life to the back of your memory, a brief refresher. Gensoumaden Saiyuki is a very loose retelling of Journey to the West set in a vaguely modern day world and replacing the three anthropomorphic animals with pretty boys, and the pretty boy priest with a not-so pretty boy who smokes too much. Also they now drive a hummer instead of riding horses because horses are shit now. To be fair the show recaps all of that because again ITS BEEN FIFTEEN FUCKING YEARS, but as there's hardly anything else to talk about I needed the filler.
So Priest Sanzo, Son Goku (yes THAT Son Goku), Hakkai, and Gojyo are still hunting demons, unable to go back to Shang-ri-la until they're all dead. This clearly hasn't been working out for them though as they're currently starving to death and forced to depend on the "hospitality" of yet another dumpy village with a deep dark secret(tm)…which really doesn't matter because they quickly split after killing some demons. Shaky cam! Grainy effects! Blood splatters! Butt rock! Its like the Bush years never ended!!!
If I can say anything at all about this show, its that its a pretty textbook reintroduction episode. No plot, basic characterization, enough to give you a basic taste of a standard Saiyuki episode without dumping the baggage of Saiyuki's ongoing storyline on top of you. In that regard its a roaring success with one small problem…this is Saiyuki and Saiyuki was NEVER GOOD. The Sanzo party is a bunch of unlikable ciphers who either crack crappy jokes or argue insistently with each other. The village is just as forgettable, a mere pit stop that the gang has to visit in order to wash up for their new tv contract. No better is this illustrated than in the reaction of one of the town elders going "WTF was that about" as they drive off into the sunset. I feel his pain. I really do. – Lord Dalek
Vatican Kiseki Chousakan
Did I wander into a time portal again? Because this feels so early 2000s, I felt as if I was watching this on the AZN Network. Flashy art. Obsessive subtitle naming of every character (except some of the women). Unsubtle yaoi subtext. Christianity allusions that are well researched but still feel off somehow. Angsty shower scenes where somebody flashes back to their ailing little brother. I know some of those tropes aren't confined to that specific time period, but it's been a while since I've seen them all at once like this. Maybe it's meant to be a throwback, to appeal to older disillusioned anime fans. But they couldn't think of anything actually interesting, so they just made what was popular back over a decade ago and expected people to latch on purely through indirect nostalgia. To the kind of people who made Trinity Blood AMVs with whatever Evanescence song they had in their folder.
Just like that Altair show airing on the same day. Even though they look completely different, they blur together for me. Mostly because nothing really stands out in either of these shows, besides the occasional fanservice, phallic imagery, or odd animation. They're the hot pockets of pretty boy anime, not even actual hot pockets, but the knockoff hot pockets you buy at a 7/11 because you want to pretend that you're living dangerously when in fact you're giving yourself stomach pain for no good reason. Ironically fitting that a Christian anime is as boring as actually going to church. You'd probably find more amusement from those cartoons Christians make that rerun alongside Bibleman and Gina D's Kids Club.
I guess give it a watch if you want something that makes Catholicism less interesting than an episode of Mother Angelica. Or if you're really horny but also patient horny so you can wait 12 weeks for potential gayness, then be disappointed that it's just implied instead of outright there so you feel like you wasted your life on an anime about gay priests. – BloodyMarquis