2018
01.11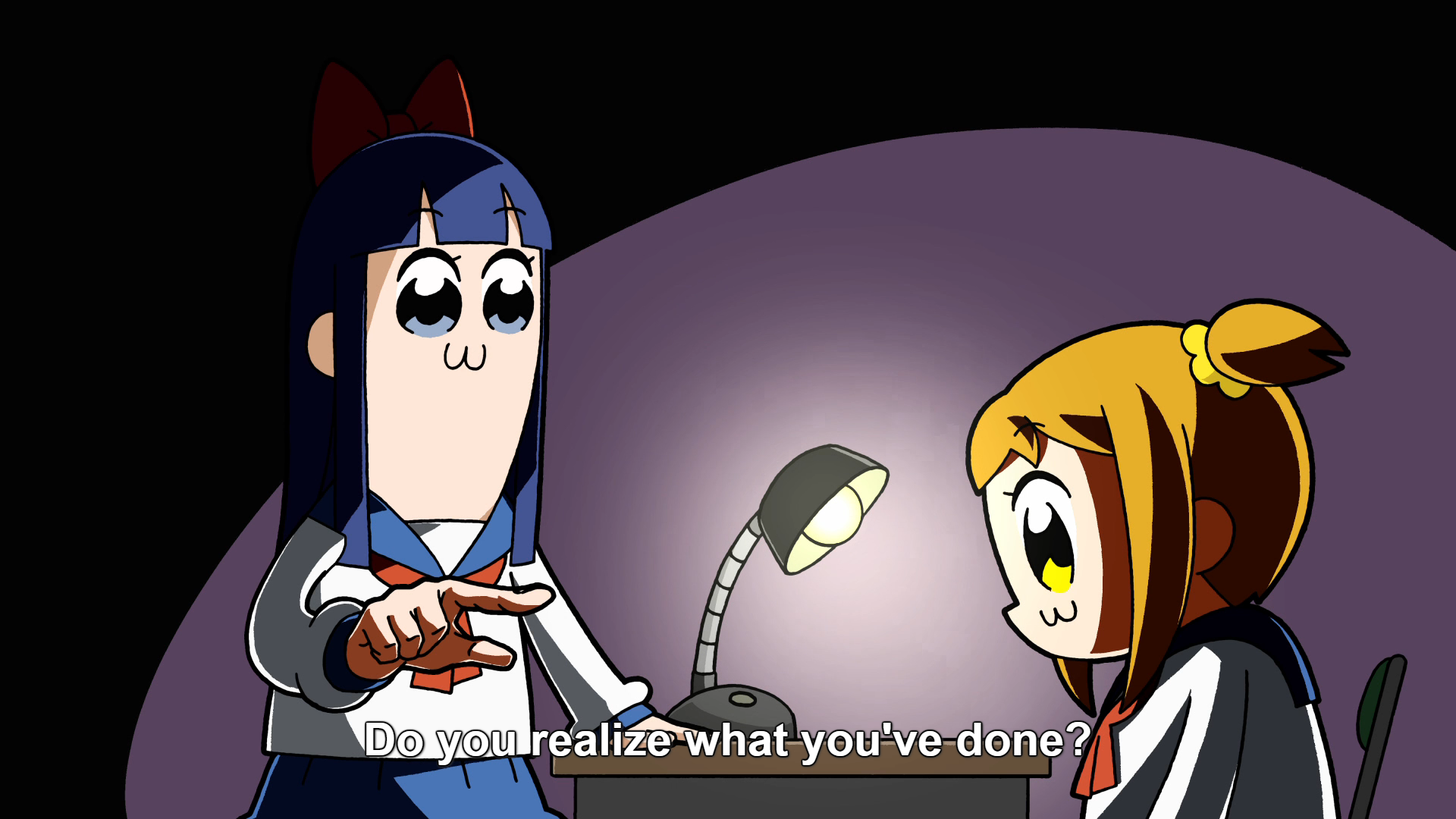 No. No they haven't. Welcome to the worst season of the year (until the next one).
Cardcaptor Sakura Clear Card Arc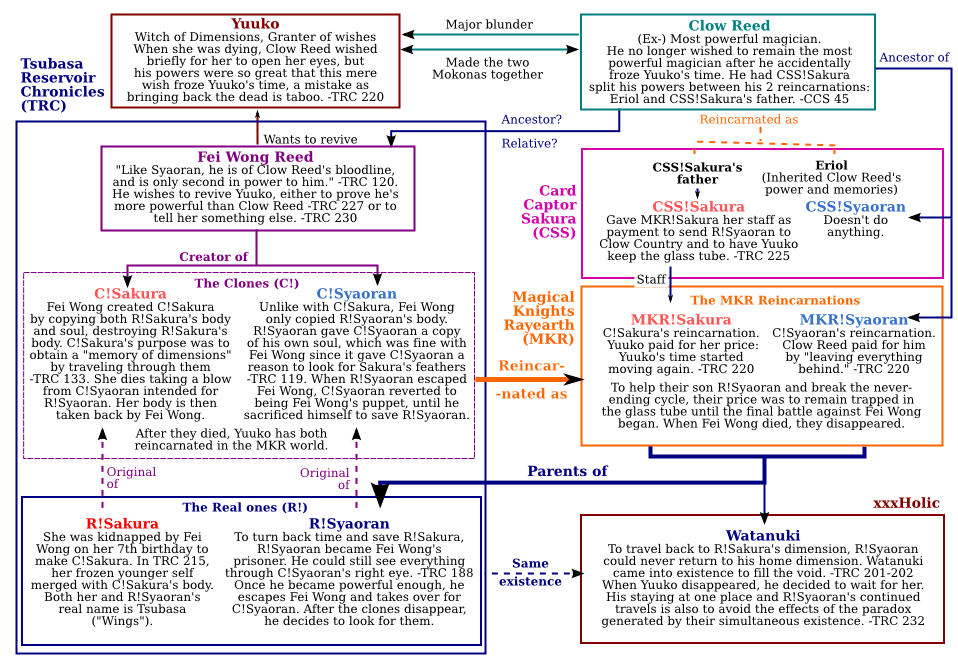 Aw, yeah. It's Keerdkapteers! Sucker-a's a junior high school student now! Madison's still a dirty, shameless voyeur! Eli Moon's back! Ms. McKenzie's back and she's got tea! Yue's back! Syao-show-xiao-Michelle-whatever-ran's back! Kero's back but he doesn't sound like surfer dude Matt Hill anymore! That sucks, but who cares?! Everybody's back! Except for that annoying Chinese girl who wanted to bone her cousin, and that girl who was in a relationship with her teacher even though she was like ten. And… come to think of it, Sakura's parents met each other when her mom was a high school student and her dad was a teacher. And Tomoyo is Sakura's second cousin even though she's crushing on her. This series had a lot of weird romances, didn't it?
Oh, CLAMP. Darling, delirious CLAMP. After dominating anime and manga for years back in the 90s and mid-00s, you fell in a rut with that Blood-C series. Few people give a shit about Kobato or Legal Drug, and nobody can even reminisce of their time with Tsubasa Reservoir Chronicle without remembering how convoluted and nonsensical the plot became as seen in the above images. But you know what you have got to do when you're yesterday's news, you pull the nostalgia string and make people excited for Clow cards again. I'd call it a shallow attempt to revive past glories because nobody's biting at the new fish, but this episode's actually kind of cute.
Sure, it's not as engrossing as it could be, and newcomers will probably be confused and have to watch the entire previous show to understand what's going on, but this show's a little like meeting an old friend. No labyrinthine plots or identity crises, just a girl who's out with her magic cards. After how badly Sailor Moon Crystal mangled its attempt to bring Sailor Moon to the modern day, seeing something like this feels less alienating and more comfy. And maybe CLAMP will go full CLAMP and ruin this trip to memory lane, but you could do worse than watching this premiere. – BloodyMarquis
Citrus
You know, if you wanted to make a show where two girls kiss, you could have come up with a less stupid plot than what goes on in Citrus. A girl who has never known love but lies to her friends about it named Yuzu goes to her new high school, full of young women who dress up like Doug Funnie and act a little like Nazis. All of these girls look the same, many are CG models, in fact the same CG model pasted a dozen times into a shot, and poor Yuzu's rebellious personality just doesn't fit in with such a conformist school. What to do? Oh, she can just let the student president molest her in front of everyone. And said student president is having a relationship with one of her teachers. And she's Yuzu's stepsister! And her grandfather owns the school!
As you can tell, this isn't a show that runs on any sort of logic. The writer throws whatever they can on the screen and uses that as the backdrop for their yuri, not realizing how questionable this relationship looks like with all these off elements. Yuzu gets molested twice in this episode, yet the angles and direction imply we're supposed to ogle at her being violated. And anyone who's watched a hundred of these shows knows what will happen. Yuzu's stepsister will eventually lighten up and be less of a predator regarding her actions, while Yuzu will grow to enjoy it. And they'll start a steady pseudo-incestuous relationship while hiding it from friends and family. The shame of it all is Yuzu's actually an interesting character, and it would be cool to see her in another show, and especially another school rather than the bizarre and poorly-rendered institution shown here. It's telling that the school's aesthetic stayed in my mind for far longer than the groping and kissing scenes. – BloodyMarquis
Devilman Crybaby
In years past, Netflix has been a bit of a thorn in the backside of many an anime fan who refuses to indulge in the dark arts of fansubbery. The reason not being that of a douchebag double paywall like Amazon's ill-begotten (and now mercifully defunct) AnimeStrike, but for being a timewall. Wanna watch first run anime on Netflix? Well too damn bad you gotta wait 6 months for the show to finish airing in Japan. Now this form of troll toll has been awfully crippling for fans of Knights of Sidonia and Little Witch Academia but also more of a fitting punishment for what few fans exist of the Seven Derpy Shits. But no more! This year begins Netflix's ridiculous new anime initiative in which most anime being aired on Netflix will be first run. No more Japan network run embargo redtape. When they say its "original" they mean it! And what's the first on the agenda? Its Devilman Crybaby! Directed by….NO. NOO. NOOOOOOOOOOOOOOOOOOOOOOOOOOO!
Yes my old friend Yuasa, aka Makoto Shinkai for people on their third bout of seasickness. Somehow he keeps getting work as if a divine power wishes to punish me for my sins and/or Dalek Exterminates rants on GSB. As if that rant I wrote here all those years ago when Kick-Heart came out wasn't justifcation enough. To add to this is its well….Devilman. Now I have only watched one form of this franchise, the 1991 OVA Remake Devil King Dante, which typical for an early 90s OVA was just a steady stream of tits and giggles. However it was apparently a fairly decent representation of the series. And we all know series creator Go Nagai is only it for the tits and giggles.
Did I mention I don't like Go Nagai that much either? Because I don't.
So this is Devilman directed by Yuasa. In it everyone is an underdetailed rubber band fluctuating between faceless cadavers and the frog people from Your Lie in April. Also one lady's boobs turn into the fricken Thing from Another World. But otherwise its pretty much a faithful adaptation. In other words its that same godawful OVA I watched with Shadow and Rac all those years ago but even more fuck ugly because that's how Yuasa rolls. Hell it even ends in the same exact spot. Does that mean next time Dante goes to a picturesque landscape made up entirely of boobs and uvulas? You know what? Don't answer that question. I'd rather wish I didn't know the original answer. – Lord Dalek
Junji Ito Collection
Junji Ito, to put it mildly, is the greatest mangaka of all time. What? You disagree? Well fuck you then! Go back to playing with your turds then as well your pwecious Kenshin by that pedophile guy. Because seriously anyone who came up with something as awesome/horrfic as Uzumaki (aka the one with the killer spirals) or fan favorite Gyo (aka the one with the zombie robot fish) must be high on something stronger than what Araki usually takes for his evening snifter. Strangely however he hasn't been given much of a fair shake in anime land though, but that's not too surprising as honestly how the hell would you make a single cour anime out of a manga about killer zombie robot fish seem not ridiculous (and yes I know there's a Gyo anime…it wasn't very good). Nevertheless its time for the anime world to pay its dues and so we have Junji Ito Collection, a series made up of adaptations of Ito's assorted one shots for various manga anthologies. Because apparently Junji Ito's vast catalog of horror writing just wasn't enough for ONE adaptation mirite? HAHAHAHAHaaaaohgod.
Well anyway we begin with an adaptation of 1997's "Souichi's Convenient Curse", in which regular Ito asshole Souichi Tsujii (a taciturn young punk who looks like Klarion The Witch Boy's far east cousin twice removed) uses a sort of voodoo magic to get even with his enemies by nailing dolls to the sides of trees and or attacking them with giant spiders and the fucking Slender Man. Why? Why not! He's an asshole! But of course you would know that if you read or seen the anime any of the ½ dozen or so Souichi stories that came before this one! Wait what's that? None of them have been translated and or animated? Well that's just…super. Either way it ends well and the kid has to suck the fumes of a dead frog! Moving on!
The episode also throws in a bonus adaptation of "Hellish Doll Funeral" in which a weird virus turns some poor schlub's daughter into an actual doll that withers and dies before his and his wife's very eyes. It is pointless, and virtually plotless but lord is it disturbing….let's move on.
In a way this is almost like an anime version of Night Gallery, just without Rod Serling and those weird paintings (then again Junji Ito art could easily be mistaken for some actual Night Gallery paintings). We're just sort of kicked into the plot and expected to make our way alive before the commercial break only to get further wrecked by the mood altering whiplash of the quote-unqote bonus short. Although ironically it was usually the longer stories on Night Gallery which had the disturbing endings, with the goofy shorts stuffed in the middle having the comedy ones. Here its the other way around, think Souichi's a little too frivolous? Whelp here's two minutes of nonsensical nightmare fuel for ya! But this is not helped by the fact that the makers of the show elected to pick two completely random stories for their premiere episode and to add additional insult, one featuring a character who was on his 7th story at this point. There was enough Souichi material out there (two whole manga volumes in fact) to make a single cour show, why couldn't you just do that instead?!? Its one thing to have an anthology show. Its another to stick a random episode of another show into it. Oh hey I guess that DOES makes this Night Gallery and that non-existent Souichi thing must be The Sixth Sense! HAHAHA I love making random references nobody will get!
Oh yeah its Deen and look like five cents was spent on it in total. Fuck it we're done. – Lord Dalek
Ms. Koizumi Loves Ramen Noodles
Okay, fess up. This is a fetish show, right? Is that the only reason this series exists? To pander to the audience getting off to teenage girls making slurping sounds? Because I can't find any other reason one could watch this show, unless you were so bored with your life that you wanted to know about ramen trivia. If this was a 2-minute gag anime, it would be fine. This show could be thrown to the corner, and wouldn't waste anybody's time. But this is full length. Your weekly serving of Japanese animation, boiled and seasoned, something this show does nothing to earn. It's just one girl lusting after another girl, and that girl eats ramen. It's not even good-looking ramen. Instant noodles coming right out of a Styrofoam cup look more edible than what the animators draw here. Food porn addicts stay away.
Perhaps this premise could work if it was a backdrop to something else, but no. One part of the episode involves the main character Yuu thinking horse oil was an ingredient used in ramen instead of chicken broth, with a joke that only makes sense if you're versed in kanji. Nothing else in particular stands out as funny, and neither does the show succeed in romance. Yuu is a fucking creep, stalking Koizumi and savoring over the sight of her eating ramen. We're supposed to think this is cute when this feels like the prelude to a failed kidnapping plot, or a particularly cringeworthy love confession at least. For a show centered around food and the love of it, this show has a poor aftertaste. If you are that desperate to watch people eat ramen, go find a youtube video. Search "girl slurps ramen" and you and your nether regions will be more satisfied than whatever this episode will offer you. – BloodyMarquis
A Place Farther Than the Universe
We all have those moments, those third-life or quarter-life or even fifth-life crises, where we question our place in this world. If anything we have done matters, or if anything exciting happened in our lives. For many, there's that sinking hole in our hearts following the realization that we haven't had the most adventurous life, and how we've let monotony become the norm. But sometimes, there's a rare person who decides they don't want to let routine life become the rest of their existence. They don't want to be one of many cogs in the system. They want to do something amazing for once, commit to a life that few others have done. And what better way to do that than… go to Antarctica?
I had no expectations when going into this show, thinking this would be yet another "cute girls doing stupid things" show that's clawing at whatever "insert stupid thing here" it can to maintain relevance and stand out amongst the other shows. I thought it was going to be like that boring camping show that premiered on the same season, but this is a surprising treat. The lead of the story Mari Tamaki has an aim that almost everyone experiences in their lives, that nothing cool has happened in their life and they need to do something to compensate for it. But unlike many (including me, sadly), she acts on that promise thanks to a chance encounter with another girl named Shirase who's hoping to go to Antarctica to rescue her missing mom.
It's a show that easy to relate to, no matter where you are in life. Behind the cute designs and charming art is a little existentialism, where the show asks us if it's better to risk nothing and lead a boring life or pursue a costly adventure that might lead to nowhere. Combine that with instantly likable characters, and you get a great premiere. I know I'm making this show sound sappier than it actually is, but this show is genuinely worth watching. – BloodyMarquis
Pop Team Epic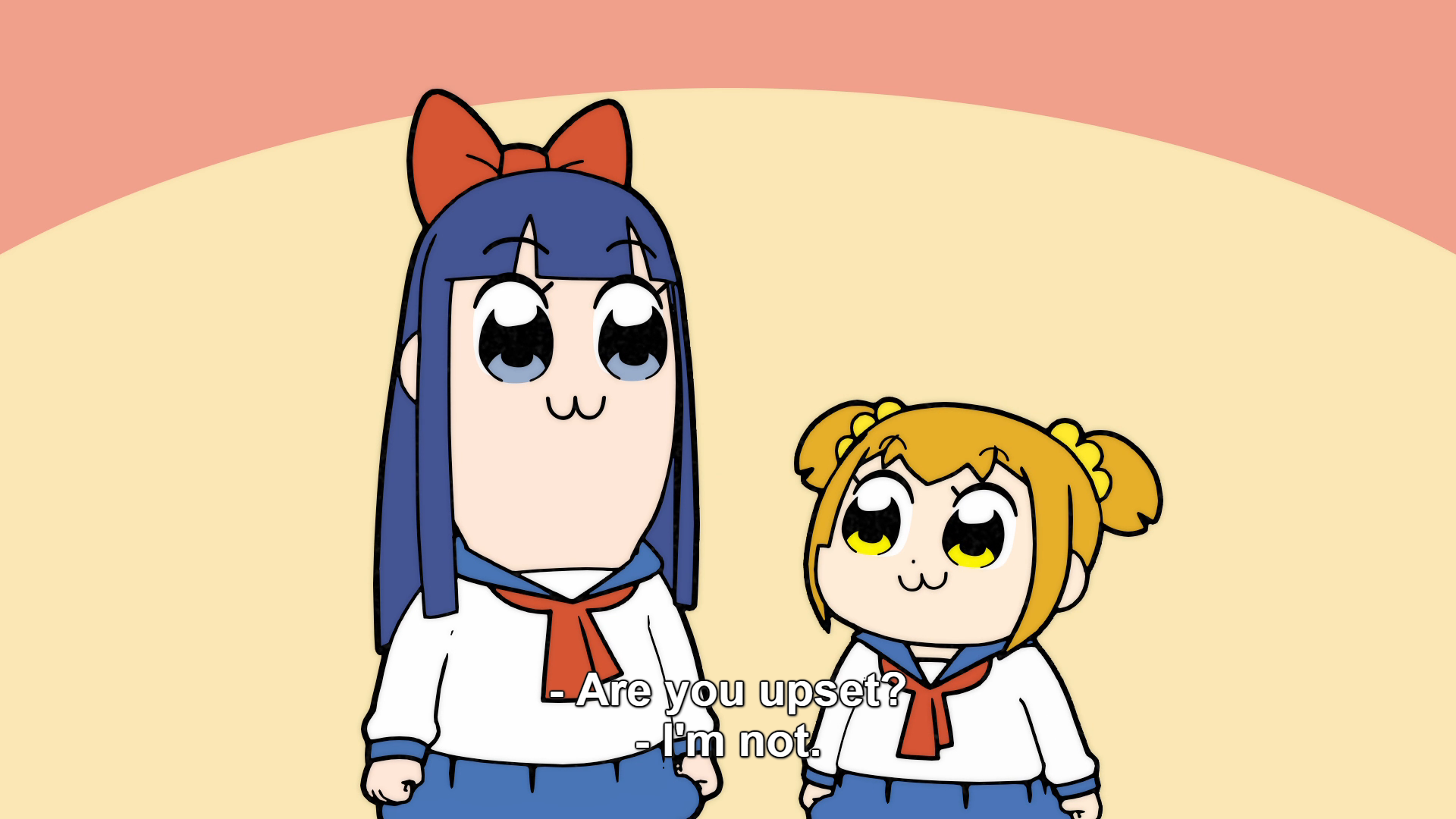 ……………………………………………………………………………………………………………………………………………..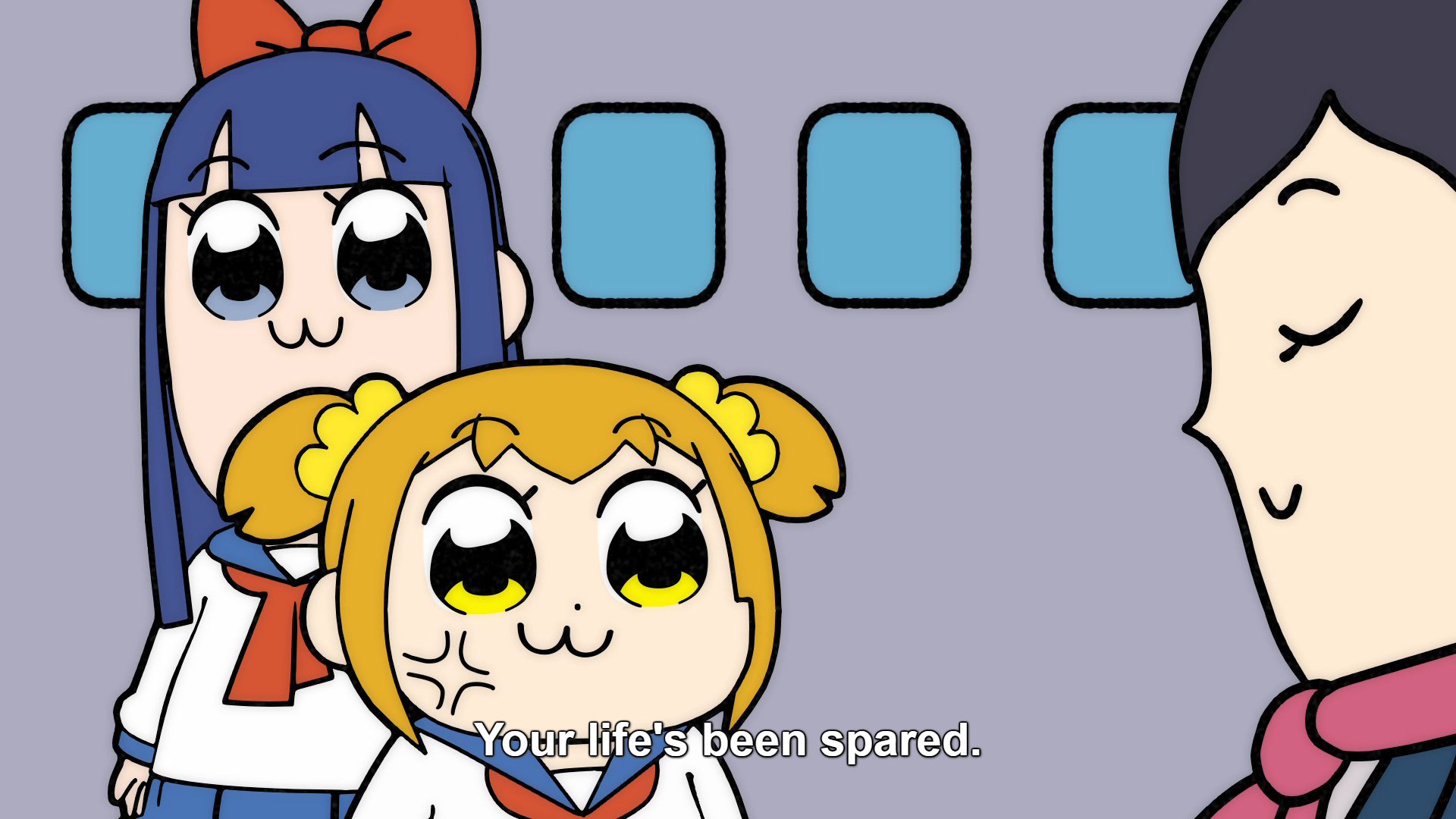 ……………………………………………………………………………………………………………………………………………
……………………………………………………………………………………………………………………………………………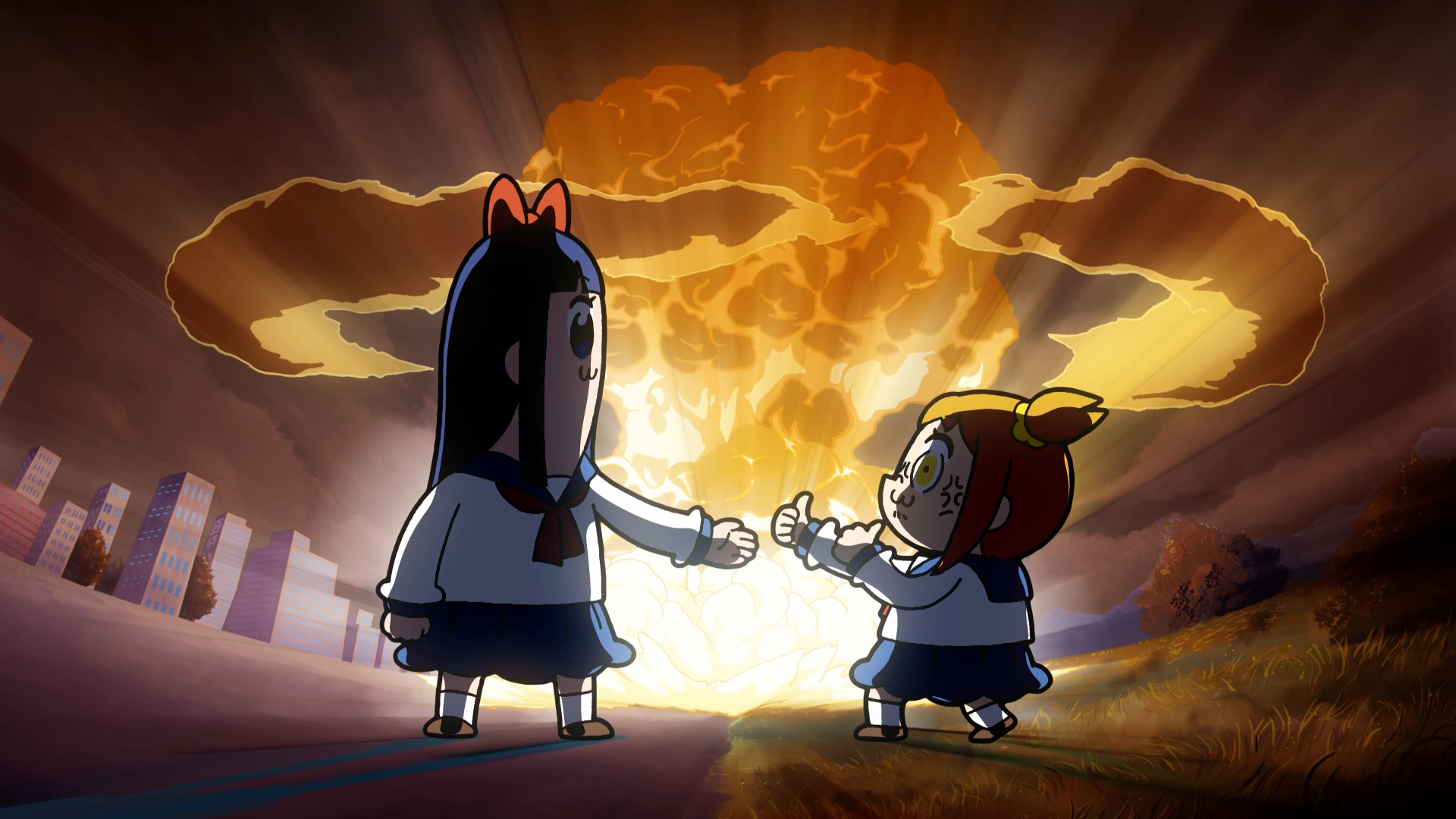 …………………………………………………………………………………………………………………………………………..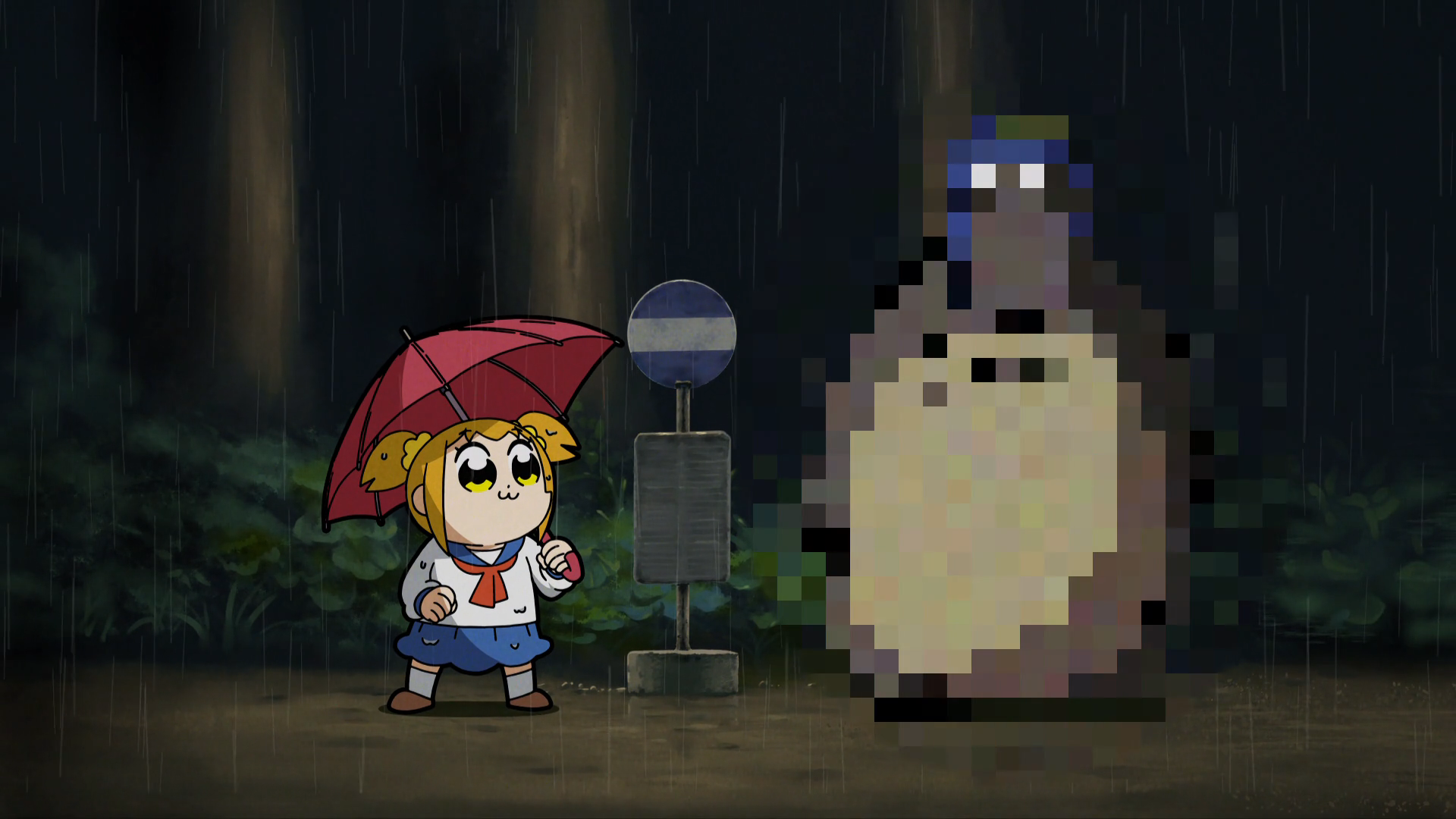 ………………………………………………………………………………………………………………………………………….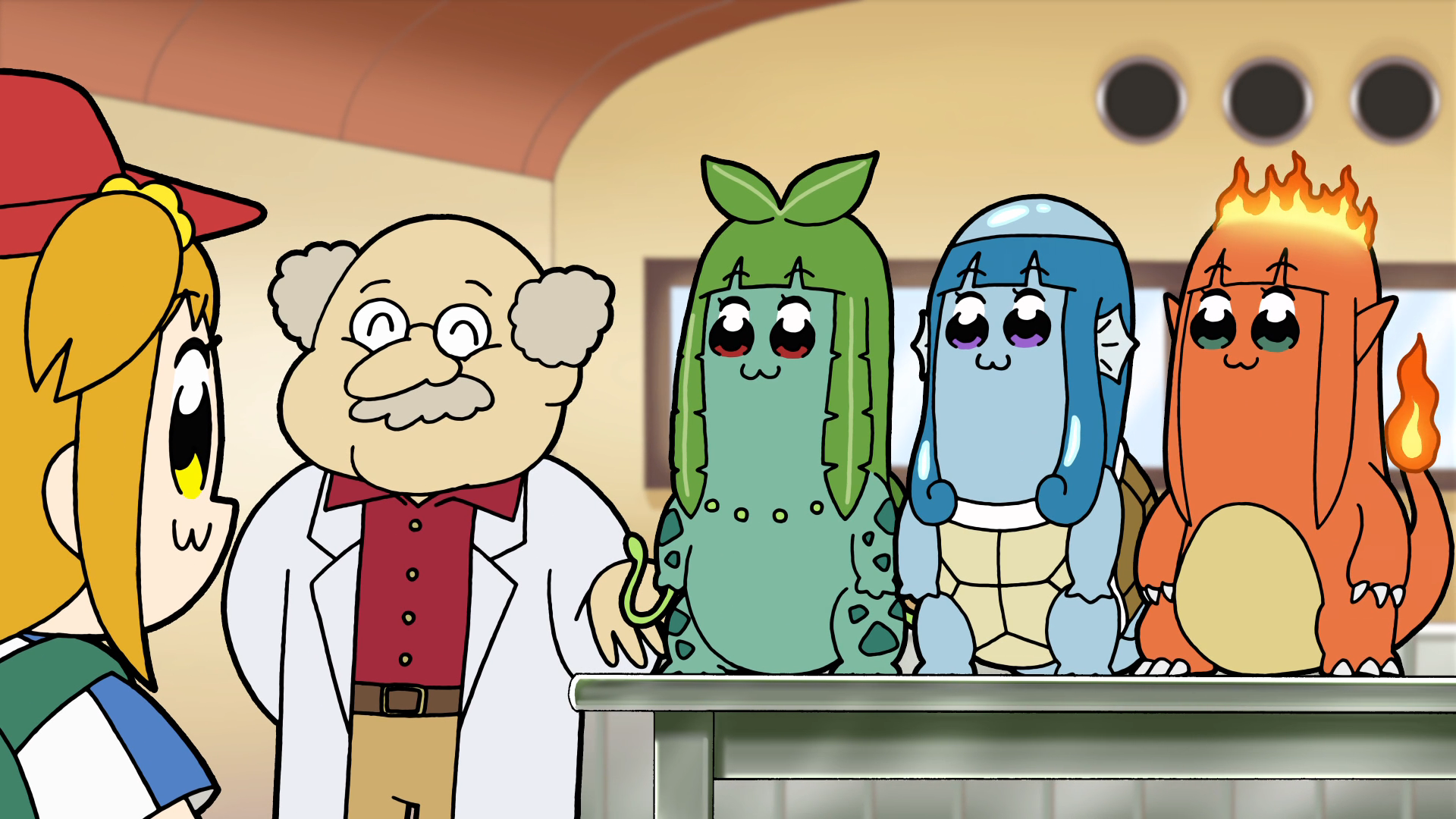 …………………………………………………………………………………………………………………………………………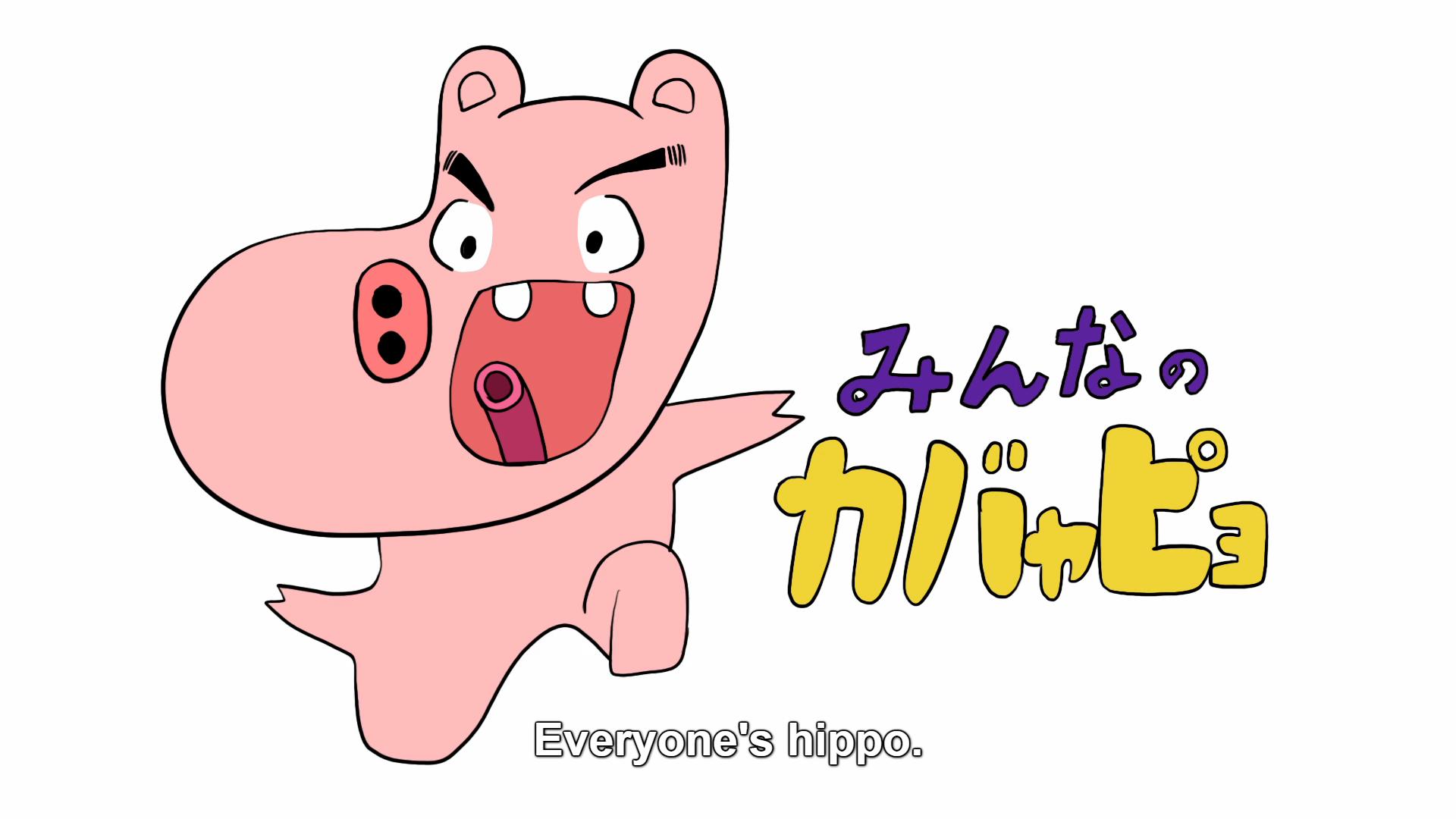 ………………………………………………………………………………………………………………………………………..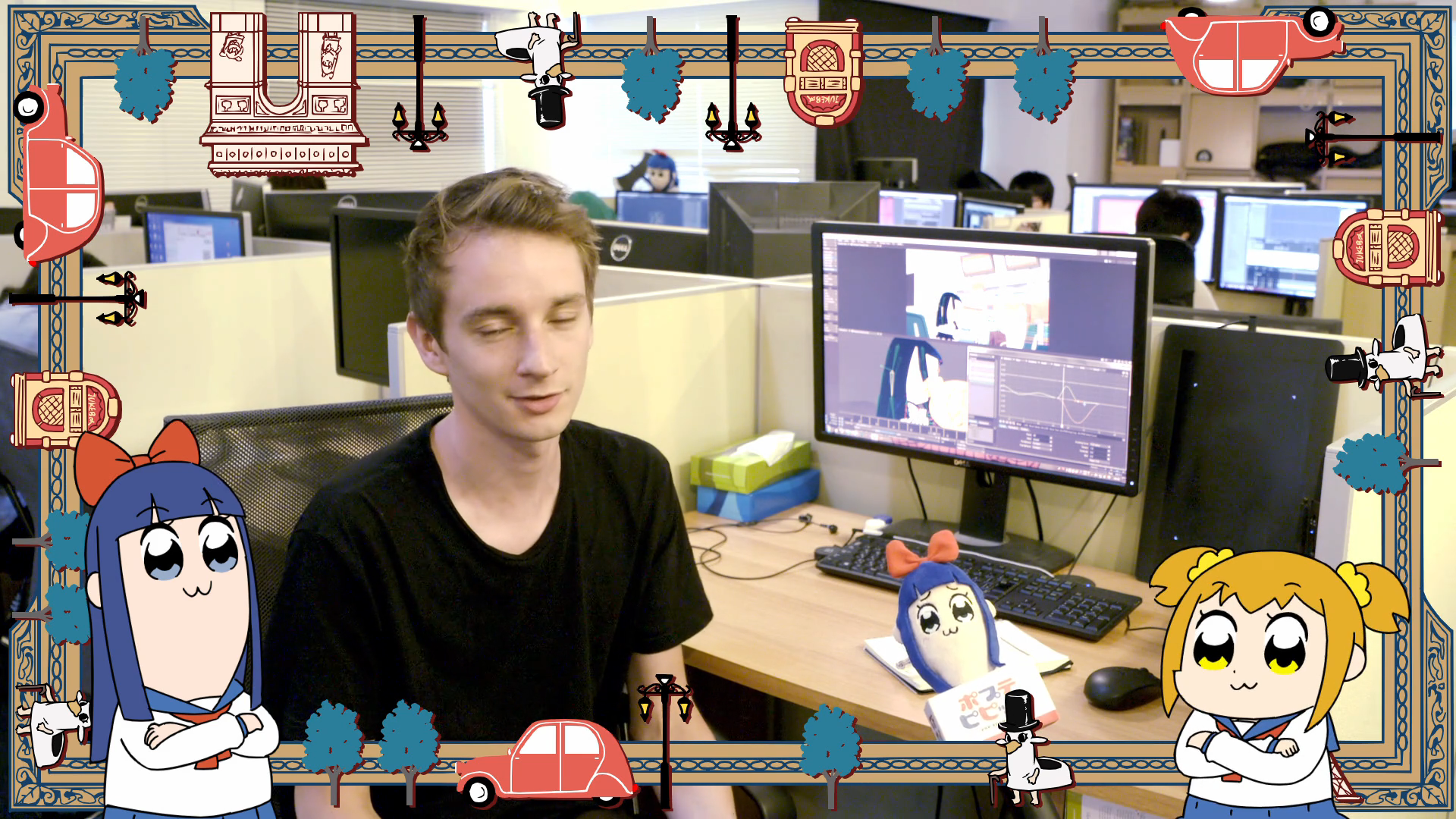 ……………………………………………………………………………………………………………………………………….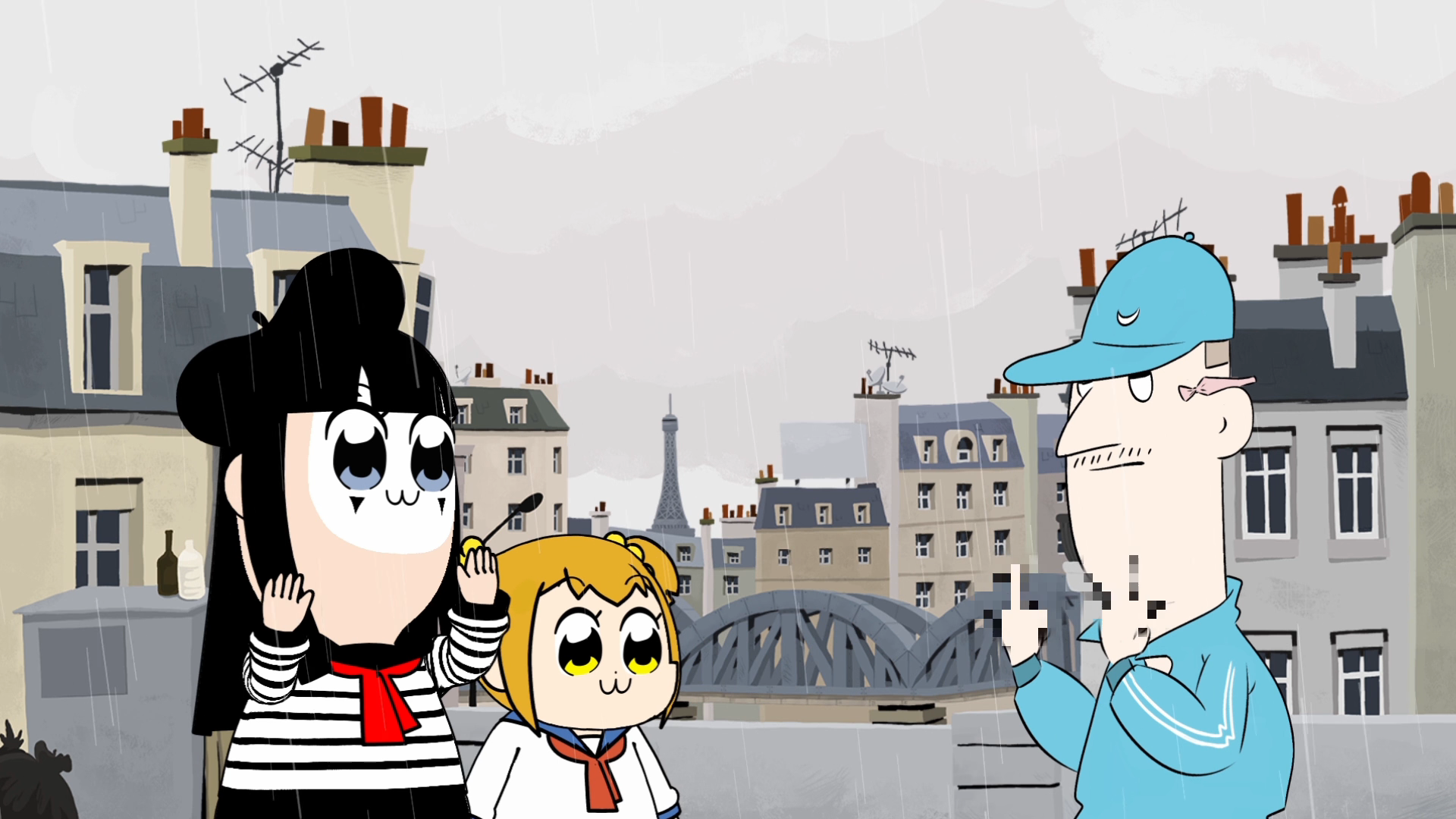 …………………………………………………………………………………………….That's it I quit. – Lord Dalek
Record of Grancrest War
I only watched two or three episodes of Record of Lodoss War like twelve or thirteen years ago on the International Channel, and don't have any real urge to pick that show back up. Only thing I remember about that show was the elf character Deedlit, and not because of her personality. The memory is such a blur, and that's how I'd describe Lodoss' apparent sibling series despite watching it just now. It's a 24-minute blur where I didn't feel invested in any of the characters or settings. I could tell you more about an episode of an anime I last watched back when I was ten years old than I could this show.
Not to say I hate this episode, it has decent animation and the designs are okay, but it's really hard to muster up any reaction than "Oh, this is a JRPG anime" or "Oh, the main girl is a blonde tsundere" or "Oh, she's setting up a contract with the main guy. Kind of like Saber except not really". It's unfair of me to expect this episode to be exciting from the get-go, but the premiere feels like background noise. It's a show you watch not because you want to, but because it's on and it's either this or twenty minutes of staring at social media accounts or forum threads. But what should I expect? This is a light novel adaptation. It's not made for newcomers. It's made the built-in audience who's going to watch every episode either for their waifu or to see their favorite fight scenes animated.
And I guess that's okay. Count my blessings this isn't another isekai show, but couldn't I just watch someone's playthrough of a Tales game instead of this? Like instead of focusing on another overpowered boy and girl couple who are learning magic to fight the forces of Chaos story, why not focus on the government in this show? Figure out why the Factory Federation and the Fantasy Alliance are at war with each other, and see what extremes can be taken when conflicts escalate. Something other than this formula that I've seen so many times that I have nothing new to say anymore. But what can I expect from a series where one of the villains is called "Demon Lord of Diabolos"? – BloodyMarquis